Tantalum Round Bars & Rods
Tantalum ASTM B365 Round Bars & Rods Manufacturer In India | Tantalum F560 Round Bars & Rods Exporter In Mumbai
Tantalum UNS R05200 Round Bars & Rods | Tantalum UNS R05400 Round Bars & Rods | Round Bars & Rods Supplier In Mumbai
Jainex Metal are Manufacturers, Exporters and Supplier of wide range Tantalum Round Bars & Rods in mumbai, India. We are fabricated these products according to the national and global quality norms.
Tantalum has great warm conductivity, and is utilized is as a part of the assembling of warming components, vacuum tubes and other high temperature parts.
Another real utilization of tantalum is for electronic parts, and because of its retention properties, tantalum is an amazing getter of remaining gasses in clearing tubes. Tantalum films give high capacitance per volume permitting scaling down of gadgets and hardware. Tantalum capacitors are use in PCs and mobile phones.
Tantalum is additionally celebrated for its resistance to corrosion by acids; truth be told, beneath 150C, Tantalum is totally resistant to corrosion by water regia. Because of its resistance to assault by body liquids, Tantalum gives a fantastic material to medicinal gadgets.
These are accessible in various determination and measurements according to the customers necessities. We offer to our customers at exhaustive scope of Tantalum Round Bars & Rods at extremely reasonable prices.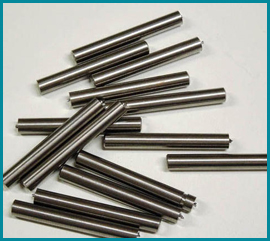 Specification
| | |
| --- | --- |
| Standard | ASTM B365 / F560 |
| Grade | R05200 / R05400 |
| Range | 3 mm to 250 mm Dia |
| Length | 100 mm to 3000 mm |
| Form | Round, Square, Hex (A/F), Rectangle, Wire (Coil Form), Wire-mesh, Billet, Ingot, Forging Etc. |