Nickel Alloy 200/201 Round Bars & Rods
ASTM B160 Nickel Alloy UNS N02200/N02201 Round Bars & Rods | Nickel Alloy 200 Round Bars & Rods | Nickel Alloy 201 Round Bars & Rods
Nickel Alloy 200/201 DIN 2.4066 / 2.4068 Round Bars & Rods | Nickel Alloy 200/201 ASME SB160 Round Bars & Rods
Jainex Metal are Manufacturers, Exporters and Supplier of wide range Nickel Alloy 200/201 Round Bars & Rods in mumbai, India. Composed in consistence with global quality benchmarks, they find ample applications in the development business and extra business applications where quality hold up is fundamental and structures a noteworthy part of the development. The arrangement is widely known for thickness, moderate quality, and strong development.
Nickel and other unique composites are utilized as a part of aviation, marine, compound, petrochemical, oil and gas, waste handling, and power era commercial ventures.
With the consistent backing of our apt group of technocrats, we are satisfying the differed necessities of customers by assembling ideal quality Nickel Alloy 200/201 Round Bar. We at, Jainex Metal provides Nickel Alloy 200/201 Round Bars & Rods which is accessible in various length, widths, and measurements as per client requirement.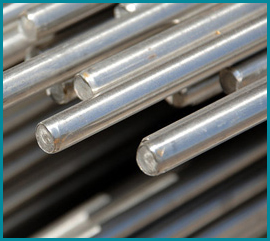 Specification
| | |
| --- | --- |
| Grades | Nickel 200/201 (UNS 2200/2201) |
| Specifications | ASTM B 160 / ASME SB 160 |
| Size | 5 mm to 250 mm Dia |
| Length | 100 mm to 6000 mm |
| Form | Round, Square, Hex (A/F), Rectangle, Wire (Coil Form), Wire-mesh, Billet, Ingot, Forging Etc. |
| Finish | Bright, Polish & Black |
Chemical Composition
| Material / Purity: | Alloy 200 | Alloy 201 |
| --- | --- | --- |
| Ni | 99.00 | 99.00 |
| Fe | .40 | 0.40 |
| Mn | 0.35 | 0.35 |
| Si | 0.35 | 0.35 |
| C | 0.15 | 0.02 |
| S | 0.01 | 0.01 |
| Cu | 0.25 | 0.25 |
Mechanical Properties
Nickel Alloy 201
Properties
Metric
Imperial
Tensile strength (annealed)
403 MPa
58500 psi
Yield strength (annealed)
103 MPa
14900 psi
Elongation at break (annealed prior to test)
50%
50%
Nickel Alloy 200
Properties
Metric
Imperial
Tensile strength (annealed)
462 MPa
67000 psi
Yield strength (annealed)
148 MPa
21500 psi
Elongation at break (annealed prior to test)
45%
45%
Physical Properties
| | |
| --- | --- |
| Density | 8.902gm/cc |
| Melting Point | 1453 oC |
| Boiling Point | 2732 oC |
| Thermal Conductivity | 0.909 W/cm/K @ 298.2K |
| Electrical Resistivity | 6.84 microhm-cm @ 20 |
| Electronegativity | 1.8 Paulings |
| Specific Heat | 0.106 Cal/g/ K @ 25 |
| Heat of Vaporization | 91.0 K-Cal/gm atom at 2732 oC |
| Heat of Fusion | 4.20 Cal/gm mole |