Alloy 20 Forged Fittings
Alloy 20 ASTM B564 Forged Fittings | Alloy 20 ASTM B160 Forged Fittings | Alloy 20 UNS N08020 Forged Fittings Stockist In Mumbai
Alloy 20 DIN 2.4660 Forged Fittings | Alloy 20 ASME SB472 Forged Fittings | Alloy 20 ANSI B16.11 Forged Fittings Suppliers In India
Jainex Metal is one of the prime makers of Alloy 20 Forged Fittings that are being sourced by utilizing high caliber of raw material and tries to give strength of most elevated nature of industry standard items.
With respect to different grades, we offer these UNS N08020 Forged Socket Weld Pipe Fittings in different types such as Alloy 20 Forged Socket weld & Threaded Fittings, Alloy 20 Forged Elbows, Alloy 20 Forged Equal & Unequal Tees, Alloy 20 Forged Equal & Unequal Cross, Alloy 20 Forged Couplings / Sockets, Alloy 20 Forged Unions, Alloy 20 Nipple (pipe, barrel, swage), Alloy 20 Bushing, and Alloy 20 Plug.
Likewise alluded as UNS N08020, these Forged Fittings can further be tweaked regarding sizes and thicknesses according to particular necessities given by our regarded customers. We offer the same at business sector driving costs.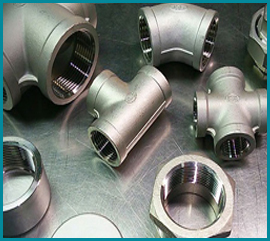 Specification of Forged Fittings
| | |
| --- | --- |
| Specification | ASTM / ASME B / SB 564 / 160 / 472 |
| Dimensions Std | ANSI/ASME B16.11 & BS3799, etc. |
| Grades | Alloy 20 (UNS N08020), 2.4660 |
| Size | 1/2" NB to 4" NB |
| Class | 2000LBS, 3000LBS, 6000LBS, 9000LBS, etc. |
| Type | Socket Weld (S/W) & SCREWED (SCRD) – NPT, BSP, BSPT, Threaded Fittings |
Types of Forged Fittings
| | | |
| --- | --- | --- |
| Alloy 20 Socket Weld Caps | Alloy 20 Socket Weld Tee | Alloy 20 Socket Weld Unions |
| Alloy 20 Couplings | Alloy 20 Forged Reducers | Alloy 20 Socket Weld Cross |
| Alloy 20 Socket Weld 90° Elbows | Alloy 20 Socket Weld Full Coupling | Alloy 20 Socket Weld Half Coupling |
| Alloy 20 Socket Weld 45° Elbows | Alloy 20 Socket Weld Reducing Coupling | Alloy 20 Screwed Unions |
| Alloy 20 Screwed 45° Elbows | Alloy 20 Screwed 90° Elbows | Alloy 20 Screwed Tee |
| Alloy 20 Screwed Cross | Alloy 20 Screwed Hex Plug | Alloy 20 Screwed Squared Plug |
| Alloy 20 Screwed Hex Nipple | Alloy 20 Screwed Bushing | Alloy 20 Screwed Full Coupling |
| Alloy 20 Screwed Half Couplings | Alloy 20 Screwed Reducing Couplings | Alloy 20 Screwed Caps |
| Alloy 20 Weldolet | Alloy 20 Sockolet | Alloy 20 Threadolet |
| Alloy 20 Elbolet | Alloy 20 Nipolet | Alloy 20 Latrolet |
| Alloy 20 Concentric Swage Nipple | Alloy 20 Eccentric Swage Nipple | Alloy 20 Forged Pipe Nipple |
Chemical Composition
| Element | Alloy 20 |
| --- | --- |
| Ni | 32 - 38 |
| Fe | Bal |
| C | 0.07 max |
| Mn | 2max |
| Si | 1.0 max |
| Cu | 3 - 4 |
| Cr | 19 - 21 |
| Mo | 2 - 3 |
| S | 0.035max |
| P | 0.045 max |
| Nb | 1.0max |
Mechanical Properties
| Element | Alloy 20 |
| --- | --- |
| Density | 8.1 g/cm3 |
| Melting Point | 1443 °C (2430 °F) |
| Tensile Strength | Psi -80,000, MPa -551 |
| Yield Strength (0.2%Offset) | Psi - 35,000, MPa - 241 |
| Elongation | 30 % |