Stainless Steel 304/304L/304H Stainless Steel
Stainless Steel 304 Forged Fittings | Stainless Steel 304L Forged Fittings | Stainless Steel 304H Forged Fittings Manufacturer
SS 304/304L/304H UNS S30400/S30403/S30409 Forged Fittings | SS 304/304L/304H DIN 1.4301/1.4307/1.4948 Forged Fittings | ASTM A182 Forged Fittings
Jainex Metal is a main maker and exporter of Stainless Steel 304, 304L, 304H Forged Fittings that are being outlined according to the national and global standard nature of crude materials and in this way ensuring their toughness and high caliber.
SS 304 Forged Fittings (WNR 1.4301) is an assembling procedure including the forming of metal utilizing restricted compressive strengths. Our SS 304L Pipe Fittings (WNR 1.4307) and SS 304H Forged Fittings (WNR 1.4948) is frequently characterized by temperature at which it is performed: cool producing (a kind of frosty working), warm manufacturing, or hot fashioning (a sort of hot working).
We offer a comprehensive scope of stainless steel Forged Fittings, for example, SS 304 Screwed Union, SS 304L Screwed Elbow, SS 304H Screwed Tee, SS 304 Screwed Cross, SS 304L Weldolet, SS 304H Screwed B ushing, etc.
Additionally refereed as UNS S30400, S30403, S30409, these Stainless Steel Buttweld Fittings can further be modified as far as thicknesses and sizes according to the particular necessities of our customers.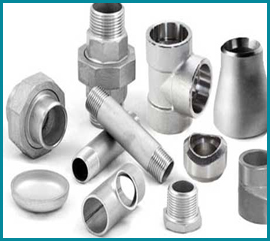 Specification of Forged Fittings
Grade
SS 304(UNS S30400),
SS 304L (UNS S30403),
SS 304H (UNS S30409) ).
Standard
ASTM A182 / ASME SA182
Specification
ASME 16.11, MSS SP-79, 83, 95, 97, BS 3799
Size
½" NB – 4" NB
Pressure
2000LBS, 3000LBS, 6000LBS, 9000LBS, etc
Type
Socket Weld (S/W) & SCREWED (SCRD) – NPT, BSP, BSPT, Threaded Fitting
Types of Forged Fittings
| | | |
| --- | --- | --- |
| Stainless Steel Socket Weld Caps | Stainless Steel Socket Weld Tee | Stainless Steel Socket Weld Unions |
| Stainless Steel Couplings | Stainless Steel Forged Reducers | Stainless Steel Socket Weld Cross |
| Stainless Steel Socket Weld 90° Elbows | Stainless Steel Socket Weld Full Coupling | Stainless Steel Socket Weld Half Coupling |
| Stainless Steel Socket Weld 45° Elbows | Stainless Steel Socket Weld Reducing Coupling | Stainless Steel Screwed Unions |
| Stainless Steel Screwed 45° Elbows | Stainless Steel Screwed 90° Elbows | Stainless Steel Screwed Tee |
| Stainless Steel Screwed Cross | Stainless Steel Screwed Hex Plug | Stainless Steel Screwed Squared Plug |
| Stainless Steel Screwed Hex Nipple | Stainless Steel Screwed Bushing | Stainless Steel Screwed Full Coupling |
| Stainless Steel Screwed Half Couplings | Stainless Steel Screwed Reducing Couplings | Stainless Steel Screwed Caps |
| Stainless Steel Weldolet | Stainless Steel Sockolet | Stainless Steel Threadolet |
| Stainless Steel Elbolet | Stainless Steel Nipolet | Stainless Steel Latrolet |
| Stainless Steel Concentric Swage Nipple | Stainless Steel Eccentric Swage Nipple | Stainless Steel Forged Pipe Nipple |
Chemical Composition
C
Mn
Si
P
S
Cr
Ni
N
304
0.08max
2.0max
1.0max
0.045max
0.03max
min: 18.0 max: 20.0
min: 8.0 max: 10.5
0.10max
304L
0.03max
2.0max
1.0max
0.045max
0.03max
min: 18.0 max: 20.0
min: 8.0 max: 12.0
0.10 max
304H
min: 0.04-
max:
2.0max
1.0max
0.045max
0.03 max
min:18.0
max:20.0
min:8.0
max:10.5
-
Mechanical Properties
| Grade | Tensile Strength ksi (min) | Yield Strength 0.2% ksi (min) | Elongation % | Hardness (Brinell) MAX | Hardness (Rockwell B) MAX |
| --- | --- | --- | --- | --- | --- |
| 304 | 75 | 30 | 40 | 201 | 92 |
| 304L | 70 | 25 | 40 | 201 | 92 |
| 304H | 75 | 30 | 40 | 201 | 92 |
Physical Properties
SS 304/304L
Density
lbm/in3
Thermal Conductivity
(BTU/h ft. °F)
Electrical
Resistivity
(in x 10-6)
Modulus of
Elasticity
(psi x 106
Coefficient of
Thermal Expansion
(in/in)/
°F x 10-6
Specific Heat
(BTU/lb/
°F)
Melting
Range
(°F)
at 68°F: 0.285
9.4 at 212°F
28.3 at 68°F
28
9.4 at 32 – 212°F
0.1200 at 68°F to 212°F
2500 to 2590
12.4 at 932 °F
39.4 at 752°F
10.2 at 32 – 1000°F
49.6 at 1652 °F
10.4 at 32 – 1500°F
SS 304H
Denstiy
lbm/in3
Coefficient of
Thermal Expansion (min/in)-°F
Thermal Conductivity BTU/hr-ft-°F
Specific Heat BTU/lbm -°F
Modules of Elasticity (annealed)2-psi
at 68 °F
at 68 – 212°F
at 68 – 1600°F
at 212°F
at 932°F
at 32 – 212°F
in tension (E)
0.285
9.2
11.0
9.4
12.4
0.12
29 x 106