Alloy Steel Forged Fittings
Alloy Steel ASME SA182 Forged Fittings | Alloy Steel F1 Forged Fittings | Alloy Steel F5 Forged Fittings | Alloy Steel F9 Forged Fittings
Alloy Steel F11 Forged Fittings | Alloy Steel F12 Forged Fittings | Alloy Steel F22 Forged Fittings | Alloy Steel F91 Forged Fittings
Jianex Metal are an outstanding maker of Alloy Steel Forged Fittings manufactured in different evaluations of steel and its compounds. Our Forged Pipe Fittings are made with most extreme accuracy, guaranteeing that our scope of items consent to universal quality parameters. Our items are likewise accessible in different evaluations and have exact size, weight, thickness and measurement. Our items are favored inferable from its elements like solidness, high metallurgical quality, resilience, accessibility in differing shapes and sizes, modified items, and cost viability.
We are supplier of Alloy Steel Forged Fittings in a wide range of evaluations like ASTM/ASME A 182 GR F 5, F 9, F 11, F 12, F 22, F 91.
These Alloy Steel Forged Fittings are utilized as a part of different application industry like oil and gas, vehicles, corrosive and concoction, pharmaceutical and concrete businesses.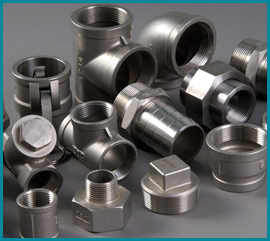 Specification of Forged Fittings
| | |
| --- | --- |
| Grades | F1, F5 , F9, F11, F12, F22, F91 , F92 |
| Specification | ASTM / ASME A/SA 182 |
| Size | ½" NB – 4" NB |
| Class | 2000LBS, 3000LBS, 6000LBS, 9000LBS, etc. |
| Type | Socket Weld (S/W) & SCREWED (SCRD) – NPT, BSP, BSPT, Threaded Fitting |
| Certification | IBR & NON IBR |
| Additional Testing | NACE MR0175 , NACE TM0284 , HIC TEST , H2 SERVICE , ETC |
Types of Forged Fittings
| | | |
| --- | --- | --- |
| Alloy Steel Socket Weld Caps | Alloy Steel Socket Weld Tee | Alloy Steel Socket Weld Unions |
| Alloy Steel Couplings | Alloy Steel Forged Reducers | Alloy Steel Socket Weld Cross |
| Alloy Steel Socket Weld 90° Elbows | Alloy Steel Socket Weld Full Coupling | Alloy Steel Socket Weld Half Coupling |
| Alloy Steel Socket Weld 45° Elbows | Alloy Steel Socket Weld Reducing Coupling | Alloy Steel Screwed Unions |
| Alloy Steel Screwed 45° Elbows | Alloy Steel Screwed 90° Elbows | Alloy Steel Screwed Tee |
| Alloy Steel Screwed Cross | Alloy Steel Screwed Hex Plug | Alloy Steel Screwed Squared Plug |
| Alloy Steel Screwed Hex Nipple | Alloy Steel Screwed Bushing | Alloy Steel Screwed Full Coupling |
| Alloy Steel Screwed Half Couplings | Alloy Steel Screwed Reducing Couplings | Alloy Steel Screwed Caps |
| Alloy Steel Weldolet | Alloy Steel Sockolet | Alloy Steel Threadolet |
| Alloy Steel Elbolet | Alloy Steel Nipolet | Alloy Steel Latrolet |
| Alloy Steel Concentric Swage Nipple | Alloy Steel Eccentric Swage Nipple | Alloy Steel Forged Pipe Nipple |