Inconel Alloy 600/601/625/718 Forged Fittings
Inconel Alloy 600/601/625/718 UNS N06600/N06601/N06625/NO7718 Forged Fittings | Inconel Alloy 600/601 Forged Fittings | Inconel Alloy 625/718 Forged Fittings
Inconel Alloy 600/601/625/718 ASTM B564 Forged Fittings | Inconel Alloy 600/601/625/718 ASTM B160 Forged Fittings
As an abundantly appreciated association in the business sector, we as Jainex Metal are entirely occupied with proposing an accumulation of Inconel 600, 601, 625, 718 Forged Fittings as an exporter, producer, supplier, and stockiest to our overall customers at sensibly valued expenses. We are viewed as a prominent supplier and maker of a huge aggregation of such Fittings. Concerning distinctive evaluations, we offer these Inconel 600, 601, 625, 718 Forged Fittings in various sorts.
Clients can take profit by us unrivaled quality Inconel Alloy Steel Forged Fittings. Our offered scope is made using high survey crude material under the direction of experienced reasons for living. This degree is comprehended for its intense improvement, high inflexibility, utilization resistance, flawless culmination and more organization life. Available in a couple outlines and sizes, our offered extent of Inconel Alloy Steel Forged Fittings has expanded goliath enthusiasm for various foundations.
We have aptitude to make Inconel Alloy Steel Forged Fittings like created pipe fittings, connection weld pipe fittings according to customers' drawings and determinations. Precision improvement, impeccable fulfillment and transcendent sparkle are the key segments of our funnel fittings including steel connection weld fittings, steel designed pipe fittings and others which make them appropriate for present day usages. We deal in connection weld elbow that are for the most part understood in the business for their beneficial working. Premium assessment rough material are used while produce.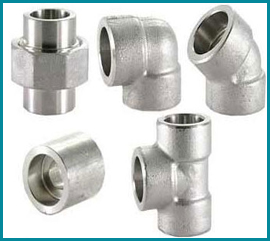 Specification of Forged Fittings
| | |
| --- | --- |
| Grade | Inconel 600 (UNS N06600),Inconel 601(UNS N06601),Inconel 625 (UNS N06625) , Inconel 718 (UNS NO7718) |
| Dimension | ANSI/ASME B16.11 & BS 3799, etc. |
| Specification | ASTM/ASME B/SB 564 / 160 / 472 |
| Size | ½ " NB - 4" NB |
| Class | 2000LBS, 3000LBS, 6000LBS, 9000LBS, etc |
| Type | Socket Weld (S/W) & SCREWED (SCRD) – NPT, BSP, BSPT, Threaded Fitting |
Types of Forged Fittings
| | | |
| --- | --- | --- |
| Inconel Socket Weld Caps | Inconel Socket Weld Tee | Inconel Socket Weld Unions |
| Inconel Couplings | Inconel Forged Reducers | Inconel Socket Weld Cross |
| Inconel Socket Weld 90° Elbows | Inconel Socket Weld Full Coupling | Inconel Socket Weld Half Coupling |
| Inconel Socket Weld 45° Elbows | Inconel Socket Weld Reducing Coupling | Inconel Screwed Unions |
| Inconel Screwed 45° Elbows | Inconel Screwed 90° Elbows | Inconel Screwed Tee |
| Inconel Screwed Cross | Inconel Screwed Hex Plug | Inconel Screwed Squared Plug |
| Inconel Screwed Hex Nipple | Inconel Screwed Bushing | Inconel Screwed Full Coupling |
| Inconel Screwed Half Couplings | Inconel Screwed Reducing Couplings | Inconel Screwed Caps |
| Inconel Weldolet | Inconel Sockolet | Inconel Threadolet |
| Inconel Elbolet | Inconel Nipolet | Inconel Latrolet |
| Inconel Concentric Swage Nipple | Inconel Eccentric Swage Nipple | Inconel Forged Pipe Nipple |
Chemical Composition
| Grade | Ni | Fe | C | Mn | Si | Cu | Cr | S | Mo | Co | Al | Ti | P | Nb/Cb | Ta |
| --- | --- | --- | --- | --- | --- | --- | --- | --- | --- | --- | --- | --- | --- | --- | --- |
| 600 | 72.0 min | 6.0 - 10.0 | 0.15 max | 1.0 max | 0.5 max | 0.5 max | 14.0 - 17.0 | 0.015 max | - | - | - | - | - | - | - |
| 601 | 58.0 – 63.0 | Balance | 0.10 max | 1.0 max | 0.50 max | 1.0 max | 21.0 – 25.0 | 0.015 max | 8.0-10.0 | - | 1.0 – 1.7 | - | - | - | - |
| 625 | 58.0 min | 5.00 | 0.10 max | 0.50 max | 0.50 max | 0.5 max | 20.0 - 23.0 | 0.015 max | 8.00 - 10.00 | 1.00 | 0.40 | 0.40 | 0.015 | 3.15 - 4.15 | 0.05 |
| 718 | 50.00-55.00 | Remainder | 0.08 max | 0.35 max | 0.35 max | 0.30 max max | 17.00-21.00 | 0.015 max | 2.80-3.30 | 1.00 | 1.00 max | 0.65-1.15 | 0.015 max | 4.75-5.50 | - |
Mechanical Properties of Inconel 600/601
| Grade | Tensile (psi) | .2% Yield (psi) | Elongation (%) |
| --- | --- | --- | --- |
| 600 | 95,000 | 45,000 | 40 |
| 601 | 80,000 | 30,000 | 35 |
Mechanical Properties of Inconel 625
| Temp° F | Tensile (psi) | .2% Yield (psi) | Elongation in 2 " (%) |
| --- | --- | --- | --- |
| 70 | 144,000 | 84,000 | 44 |
| 400 | 134,000 | 66,000 | 45 |
| 600 | 132,000 | 63,000 | 42.5 |
| 800 | 131,500 | 61,000 | 45 |
| 1000 | 130,000 | 60,500 | 48 |
| 1200 | 119,000 | 60,000 | 34 |
| 1400 | 78,000 | 58,500 | 59 |
| 1600 | 40,000 | 39,000 | 117 |
Mechanical Properties of Inconel 718
| Ultimate Tensile Strength, psi | .2% Yield Strength psi | Elongation % | Hardness Rockwell B |
| --- | --- | --- | --- |
| 135,000 | 70,000 | 45 | 100 |