Aluminium Alloy Pipes & Tubes
Aluminium Alloy 2014 Pipes & Tubes | Aluminium Alloy 2024 Pipes & Tubes | Aluminium Alloy 6061 Pipes & Tubes Supplier
Aluminium Alloy 6082 Pipes & Tubes | Aluminium Alloy 7075 Pipes & Tubes | Aluminium Alloy Pipes & Tubes
Jainex Metal are one of the noticeable suppliers of a subjective scope of Aluminum Alloy Pipes. Taking after the requests of customers, we give different range and types of these pipes. Our pipes are sourced from ensured producers who make these utilizing best quality aluminum and by actualizing advance advances.
Jainex Metal stocks both drawn and expelled aluminum pipes. Our expelled aluminum pipes is supplied in both consistent and basic (port-opening pass on). Whether you have a weight or auxiliary application, our product offering can cover your requirements. Light weight, amazing erosion resistance, and the capacity to transmit warm quickly are just a couple of the advantages of aluminum channels.
Jainex Metal stocks 6061, 6063, 5083, and 5086 combinations in expelled aluminum piping in the tempers of T6, T6511, O, H32, and T52. We additionally convey a drawn aluminum pipes item in 6061 combination with a T6 temper. Because of the differences of its properties, expelled aluminum tube is utilized as a part of an assortment of commercial ventures/markets.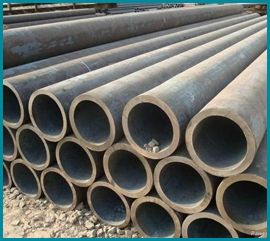 Specification for Aluminium Alloy Pipes & Tubes
Type of alloy
Temper
O.D. x Wall (mm)
Length max (mm)
2014, 2024, 2017, 2011
61 - 200 x 5 - 40
6000
T4,T3510,T 6,T4511
201- 420 x 10 - 80
3000
5083, 6061, 6082, 7075, 7001, 7045, 7050, 3003
T6511, T6
61- 200 x 5 - 40
6000
T6
201 - 420 x 10 - 80
3000
Details for Aluminium Alloy Pipes & Tubes
| Alloy & Temper | Size in mm | Application |
| --- | --- | --- |
| 7075t6 | 14*0.8 / 16*0.7 / 18*0.7 | Ski pole / tracking pole |
| 7075t6 | 7*0.3 / 9*0.4 | Arrow tubes |
| 2014t6, 7075t6, 7075t76 | 22*2.5 / 30*4.8 | Handle bar |
| aa3003, 6063, 6061 | 16*1.2 / 12*1.75 / 16*1.75 / 12*2 / 7.94*1 / 9.52*1 / 12.7*1.2 / 16*2 | Automobile radiator connector |
| 5046-h111 |   | Condenser & heat exchanger |
| d97, 1015 |   | Automobile heat sink & radiator tubes |
| 7001t6 | 8.5*0.7 / 9.5*0.7 / 11*0.7 / 7*1.2 | Tent pole |
| aa7045, 7050, 6061 | 60.3*2.29(7046) 60.3*2.16(7050) 50.8*2.16(6061) | Bat tubes |
| aa6061, 7005 | 26*18*1.6 / 36*18*1.4 / 65*25*2 / 64*42*1.8 | Bike tubes rectangular |
| 7075t6, 7050t7351 | 30.5*24.8 / 31.7*22.2 | Bike shock absorbers |
| 3003h16 | 40*0.8/40*0.9/25*0.9/30*0.9/120*0.9 /164*10/140*160 | Copy drum |
| 7075t6 |   | Aircraft & rail seat components |
Applications
- Transportation industry
- Marine industry
- Solar and renewable Energy
- Building and construction (both commercial and residential)
- Military and Defense
- Electrical bus conductors
- Compressed gas storage