Monel Alloy 400/K500 Pipes & Tubes
Monel Alloy 400/K500 Seamless Welded Pipes And Tubes | ASTM B 163 Monel UNS N04400/5500 Seamless & Welded Pipes & Tubes
ASTM B 165 Monel Alloy 400/K500 Seamless Welded Pipes And Tubes | Monel Alloy 400/K500 Pipes Tubes
As a highly appreciated association in the business sector, we as Jainex Metal are very occupied with proposing a gathering of Monel 400/K500 Pipes and Tubes as an exporter, maker, supplier, and stockiest to our overall customers at sensibly estimated costs. Additionally alluded as UNS N04400/N05500 Pipes and Tubes, Monel is a strong arrangement double compound. As nickel and copper are commonly solvent in all extents, it is a solitary stage amalgam.
Contrasted with steel, Monel is extremely hard to machine as it work-solidifies rapidly. It should be turned and worked at moderate speeds and low bolster rates. In the interim, we also offer these Monel Alloy 400/K500 pipes and tubes in redid thicknesses and sizes according to the exact necessities given by our important clients in worldwide nature of principles.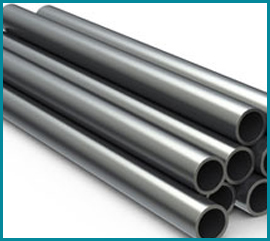 Specification Of Monel Alloy 400/K500 Seamless Welded Pipes And Tubes
Grades
Monel 400 (UNS No. N04400)
Monel K500 (UNS No. N05500)
Size
½"NB – 24"NB
Standards
ASTM/ ASME B/ SB 161 / 163 / 165 / 725 / 775
Range
6.35 mm OD upto 254 mm OD in 0.6 TO 20 mm thickness.
Schedule
SCH 10 – SCH XXS
Length
Single Random, Double Random & Cut Length.
Type
Seamless, Welded, Fabricated, ERW
Form
Round, Rectangular, Hydraulic, Square
End
Plain End, Beveled End, Threaded.
Chemical Composition Of Monel Alloy 400/K500 Seamless Welded Pipes And Tubes
| Grade | Ni | Fe | C | Mn | Si | Cu | Al | Ti | S |
| --- | --- | --- | --- | --- | --- | --- | --- | --- | --- |
| K500 | 63.0 min | 05 - 2 | 0.25 max | 1.5 max | 0.5 max | 27.0 - 33.0 | 2.3 - 3.15 | 0.35 - 0.85 | 0.010 max |
| 400 | 63.0- 70.00 max | 2.50 max | 0.3 max | 2.00 max | 0.50 max | Remainder | - | - | 0.024 max |
Mechanical Properties Of Monel Alloy 400/K500 Seamless Welded Pipes And Tubes
| Grade | Tensile (ksi) | .2% Yield (ksi) | Elongation % | Hardness (HRb) |
| --- | --- | --- | --- | --- |
| 400 | 75 to 90 | 25 to 50 | 60 to 35 | 60 to 80 |
| K500 | Psi – 1,60,000 , MPa – 1100 | Psi – 1,15,000 , MPa – 790 | 20 % | - |
Physical Properties of Monel 400
| | |
| --- | --- |
| Density@ Room Temp | 0.318 lb/in3 |
| Elastic Modulus @ 70ºF (tension) | 26.0 x 106psi |
| Specific Heat @ 70°F | 0.102 Btu/lb/°F |
| Melting Point | 2370°F to 2460°F |
| Thermal Conductivity @ 70°F | 151 Btu • in/h/ft 2 /°F |
| Electrical Resistivity @ 70°F | 0.511 μ Ω • m |
Physical Properties of Monel K500
| | |
| --- | --- |
| Density (Kg.m-1) | 84.3 |
| Magnetic Permeability (20°C) | <1.005 |
| Curie Temperature (°C) | -90 |
| Young's Modulus (N/mm2) | 179 x 103 |
| Specific Heat, 20°C (J.Kg-1.°K-1) | 418 |
| Specific Electrical Resistance, 20°C (?O.m) | 0.62 |
| Thermal conductivity,20°C (W.m-1.°K-1) | 17.5 |
| Mean coefficient of thermal expansion, 20-100°C (°K-1) | 13.4 x 10-6 |