Alloy 20 Pipes & Tubes
Alloy 20 Pipes & Tubes Supplier | Alloy 20 Pipes & Tubes Stockist In India | Alloy 20 Seamless Welded Pipes And Tubes
ASTM B729 Alloy 20 Pipes & Tubes Supplier | Alloy 20 ASTM B464 Pipes & Tubes Stockist In India
Jainex Metal is one of the prime makers of of of of of of of of Alloy 20 Pipes and Tubes that are being sourced by utilizing high caliber of raw material and tries to give strength of most elevated nature of industry standard items.
Alloy 20 Pipes and Tubes, likewise recognized as Carpenter 20, is a nickel-iron-chromium austenitic compound that was shaped for most resistance to corrosive assault, specifically sulfuric corrosive. This superalloy channels has some great resistance to general consumption, cleft erosion and setting in chemicals that contains phosphoric, chlorides, sulfuric, and nitric acids. It too contains niobium for adjustment contrary to sharpening and considerable intergranular corrosion.
Likewise alluded as UNS N08020, these Pipes and Tubes can further be tweaked regarding sizes and thicknesses according to particular necessities given by our regarded customers. We offer the same at business sector driving costs.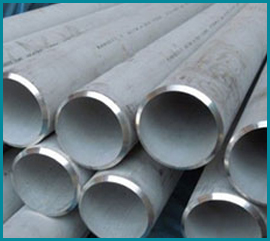 Specification Of Alloy 20 Pipes & Tubes
| | |
| --- | --- |
| Standard | ASTM B 729, B 464 /468, ASTM SB 729, SB 464 /468 |
| Size | ½"NB – 24"NB  |
| Schedule | SCH 10 – SCH XXS |
| Type | Seamless / ERW / Welded / Fabricated / LSAW Pipes |
| End | Plain End, Beveled End, Threaded. |
| Length | Single Random, Double Random & Cut Length. |
| Form | Round, Square, Rectangular, Hydraulic Etc. |
Chemical Composition Of Alloy 20 Pipes & Tubes
| Element | Alloy 20 |
| --- | --- |
| Ni | 32 - 38 |
| Fe | Bal |
| C | 0.07 max |
| Mn | 2max |
| Si | 1.0 max |
| Cu | 3 - 4 |
| Cr | 19 - 21 |
| Mo | 2 - 3 |
| S | 0.035 max |
| P | 0.045 max |
| Nb | 1.0max |
Mechanical Properties Of Alloy 20 Pipes & Tubes
| Element | Alloy 20 |
| --- | --- |
| Density | 8.1 g/cm3 |
| Melting Point | 1443 °C (2430 °F) |
| Tensile Strength | Psi -80,000, MPa -551 |
| Yield Strength (0.2%Offset) | Psi - 35,000, MPa - 241 |
| Elongation | 30 % |