Hastelloy Buttweld Fittings
Hastelloy C22/C276 UNS N10276/N06022/N10665 Buttweld Fittings | Hastelloy C22 Buttweld Fittings | Hastelloy C276 Buttweld Fittings
Hastelloy C22/C276 ASTM B160 Buttweld Fittings | Hastelloy C22/C276 ASTM B366 Buttweld Fittings | Hastelloy C22/C276 ASME SB472 Buttweld Fittings
As a highly respected association in the business sector, we as Champak Steel and Engg. Co. are entirely occupied with proposing a gathering of Hastelloy Buttweld Fittings as an exporter, producer, supplier, and stockiest to our overall customers at sensibly evaluated costs.
Concerning distinctive evaluations, we offer these Buttweld Fittings in various sorts, for example, Hastelloy Seamless Butt weld pipe fittings, Hastelloy Welded Butt weld pipe fittings, Hastelloy Elbow (45 deg, 90 deg, 180 deg), Hastelloy Equal and Unequal (decreasing) Tees, Hastelloy Equal and Unequal (lessening) Cross, Hastelloy Concentric and Eccentric Reducer, Hastelloy Long and Short Stubends, and Hastelloy Pipe End Caps.
We too offer these Hastelloy Alloy Buttweld Fittings in tweaked thicknesses and sizes according to the exact prerequisites given by our significant clients in worldwide nature of guidelines. In the mean time, we are being considered as a renowned supplier and manufacturer of a substantial compilation of such Buttweld fittings.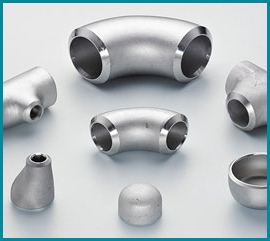 Specification of Buttweld Fittings
| | |
| --- | --- |
| Grade | Hastelloy C22 (UNS No. N06022), Hastelloy C276 (UNS N10276) |
| Dimension Std. | ASTM, ASME ANSI B16.9, B16.28, MSS-SP-43. |
| Specification | ASTM B366 / ASME SB366 |
| Size | ½" NB – 48" NB |
| Schedule | SCH 5 TO SCH XXS |
| Type | Seamless / ERW / Welded / Fabricated |
Types of Buttweld Fittings
| | | |
| --- | --- | --- |
| Hastelloy Reducers | Hastelloy Concentric Reducers | Hastelloy Tees |
| Hastelloy Weldolet | Hastelloy Short Stub End | Hastelloy Eccentric Reducers |
| Hastelloy Elbows | Hastelloy 3D Elbow | Hastelloy Lap Joint Stub End |
| Hastelloy End Caps | Hastelloy 5D Elbow | Hastelloy 180° SR Return Bends |
| Hastelloy Elbows | Hastelloy Short Radius Elbow | Hastelloy 45° Elbows |
| Hastelloy Reducing Elbow | Hastelloy Long Radius Elbow | Hastelloy 180° LR Return Bends |
| Hastelloy 45° Elbows | Hastelloy Equal Tee | Hastelloy UnEqual Tee |
| Hastelloy Reducing Tee | Hastelloy 1D Elbow | Hastelloy 1.5D Elbow |
| Hastelloy Long Stub Ends | Hastelloy 2D Elbow | Hastelloy 6D Elbow |
Chemical Composition of Hastelloy C22
| Element | Min | Max |
| --- | --- | --- |
| Molybdenum | 12.5 | 14.5 |
| Chromium | 20.0 | 22.5 |
| Iron | 2.00 | 6.00 |
| Tungsten | 2.50 | 3.50 |
| Cobalt | -- | 2.50 |
| Carbon | -- | 0.010 |
| Silicon | -- | 0.08 |
| Manganese | -- | 0.50 |
| Vanadium | -- | 0.35 |
| Phosphorus | -- | 0.025 |
| Sulfur | -- | 0.010 |
Chemical Composition of Hastelloy C276
| Element | Min | Max |
| --- | --- | --- |
| Molybdenum | 15.0 | 17.0 |
| Chromium | 14.5 | 16.5 |
| Iron | 4.0 | 7.0 |
| Tungsten | 3.0 | 4.5 |
| Cobalt | -- | 2.50 |
| Manganese | -- | 1.0 |
| Carbon | -- | 0.1 |
| Vanadium | -- | 0.35 |
| Phosphorus | -- | 0.04 max |
| Sulfur | -- | .03 max |
| Silicon | -- | .08 max |
Mechanical Properties
| Grade | Tensile (ksi) | .2% Yield (ksi) | Elongation % | Hardness (HRb) |
| --- | --- | --- | --- | --- |
| C22 | 115 | 55 | 60 | 89 |
| C276 | 110 | 52.6 | 62 | - |