Stainless Steel 304/304L/304H Buttweld Fittings
Stainless Steel 304 Buttweld Fittings | Stainless Steel 304L Buttweld Fittings | Stainless Steel 304H Buttweld Fittings Manufacturer
SS 304/304L/304H UNS S30400/S30403/S30409 Buttweld Fittings | SS 304/304L/304H DIN 1.4301/1.4307/1.4948 Buttweld Fittings | ASTM A182 Buttweld Fittings
As an acclaimed undertaking of the business, Jainex Metal is included in offering an unfathomable cluster of Stainless Steel 304/304L/304H Buttweld Fittings as a maker, exporter, stockiest and supplier to our household and worldwide customers. Stainless Steel 304L is the low carbon rendition of 304. It doesn't require post-weld toughening as is widely utilized as a part of substantial gage segments (over around 6mm). Stainless Steel Grade 304H with its higher carbon content discovers application at elevated temperatures.
Regarding diverse evaluations, we offer these Stainless Steel Pipe Fittings in various sorts, for example, SS Seamless Butt weld pipe fittings, SS Welded Butt weld pipe fittings, SS Elbow (45deg, 90deg, 180deg), SS Equal and Unequal (diminishing) Tees, SS Equal and Unequal (lessening) Cross, SS Concentric and Eccentric Reducer, SS Long and Short Stubends, and SS Pipe End Caps.
As for national and global nature of crude materials, we likewise offer these SS 304/304L/304H Buttweld Fittings in tweaked sizes and thicknesses according to particular requests by our regarded customers at business sector driving costs.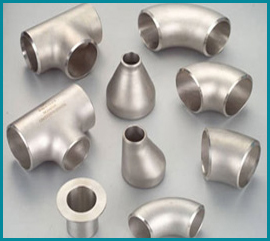 Specification of Buttweld Fittings
Grade
SS 304(UNS S30400),
SS 304L (UNS S30403),
SS 304H (UNS S30409) ).
Dimension Std.
ASME/ANSI B16.9, ASME B16.28, MSS-SP-43
Specification
ASTM A403 / ASME SA403
Size
½" NB – 48" NB
Thickness
SCH 10 – SCH XXS
Type
Seamless / ERW / Welded / Fabricated
Types of Buttweld Fittings
| | | |
| --- | --- | --- |
| Stainless Steel Reducers | Stainless Steel Concentric Reducers | Stainless Steel Tees |
| Stainless Steel Weldolet | Stainless Steel Short Stub End | Stainless Steel Eccentric Reducers |
| Stainless Steel Elbows | Stainless Steel 3D Elbow | Stainless Steel Lap Joint Stub End |
| Stainless Steel End Caps | Stainless Steel 5D Elbow | Stainless Steel 180° SR Return Bends |
| Stainless Steel Elbows | Stainless Steel Short Radius Elbow | Stainless Steel 45° Elbows |
| Stainless Steel Reducing Elbow | Stainless Steel Long Radius Elbow | Stainless Steel 180° LR Return Bends |
| Stainless Steel 45° Elbows | Stainless Steel Equal Tee | Stainless Steel UnEqual Tee |
| Stainless Steel Reducing Tee | Stainless Steel 1D Elbow | Stainless Steel 1.5D Elbow |
| Stainless Steel Long Stub Ends | Stainless Steel 2D Elbow | Stainless Steel 6D Elbow |
Chemical Composition
C
Mn
Si
P
S
Cr
Ni
N
304
0.08max
2.0max
1.0max
0.045max
0.03max
min: 18.0 max: 20.0
min: 8.0 max: 10.5
0.10
max
304L
0.03max
2.0max
1.0max
0.045max
0.03max
min: 18.0 max: 20.0
min: 8.0 max: 12.0
0.10 max
304H
min: 0.04
max:0.10
2.0max
1.0max
0.045 max
0.03 max
min: 18.0 max: 20.0
min: 8.0 max: 10.5
--
Mechanical Properties
| Grade | Tensile Strength ksi (min) | Yield Strength 0.2% ksi (min) | Elongation % | Hardness (Brinell) MAX | Hardness (Rockwell B) MAX |
| --- | --- | --- | --- | --- | --- |
| 304 | 75 | 30 | 40 | 201 | 92 |
| 304L | 70 | 25 | 40 | 201 | 92 |
| 304H | 75 | 30 | 40 | 201 | 92 |
Physical Properties
SS 304/304L
Density
lbm/in3
Thermal Conductivity
(BTU/h ft. °F)
Electrical
Resistivity
(in x 10-6)
Modulus of
Elasticity
(psi x 106
Coefficient of
Thermal Expansion
(in/in)/
°F x 10-6
Specific Heat
(BTU/lb/
°F)
Melting
Range
(°F)
at 68°F: 0.285
9.4 at 212°F
28.3 at 68°F
28
9.4 at 32 – 212°F
0.1200 at 68°F to 212°F
2500 to 2590
12.4 at 932 °F
39.4 at 752°F
10.2 at 32 – 1000°F
49.6 at 1652 °F
10.4 at 32 – 1500°F
SS 304H
Denstiy
lbm/in3
Coefficient of
Thermal Expansion (min/in)-°F
Thermal Conductivity BTU/hr-ft-°F
Specific Heat BTU/lbm -°F
Modules of Elasticity (annealed)2-psi
at 68 °F
at 68 – 212°F
at 68 – 1600°F
at 212°F
at 932°F
at 32 – 212°F
in tension (E)
0.285
9.2
11.0
9.4
12.4
0.12
29 x 106