Monel Alloy 400/K500 Buttweld Fittings
Monel Alloy 400/K500 UNS N04400/5500 Buttweld Fittings | Monel Alloy 400/K500 ASTM B160 Buttweld Fittings | Monel Alloy 400 Buttweld Fittings
Monel Alloy K500 Buttweld Fittings | Monel Alloy 400/K500 ASME B16.11 Buttweld Fittings | Monel Alloy 400/K500 DIN 2.4360/2.4375 Buttweld Fittings
As a tremendously respected association in the business sector, we as Jainex Metal are entirely occupied with proposing an accumulation of Monel Buttweld Fittings as an exporter, maker, supplier, and stockiest to our overall customers at sensibly valued expenses. The possible scope of UNS N04400 Buttweld Fittings and UNS N05500 Buttweld Fittings is being made by utilizing unrivaled evaluation of steel and advanced gear.
As for various evaluations, we offer these Monel Alloy Pipe Fittings in various sorts, for example, Monel 400 Seamless Butt weld Pipe fittings, Monel K500 Welded Butt weld Pipe fittings, Monel 400 Elbow (45deg, 90deg, 180deg), Monel K500 Equal and Unequal (reducing) Tees, Monel 400 Equal and Unequal (lessening) Cross, Monel K500 Concentric and Eccentric Reducer, Monel 400 Long and Short Stubends, and Monel K500 Pipe End Caps.
In the interim, we too offer these Monel Alloy Buttweld Fittings in tweaked thicknesses and sizes according to the exact necessities given by our profitable clients in worldwide nature of gauges.
With the assistance of our gifted specialists, Jainex Metal are skilled to offer a predominant scope of Monel Alloy Buttweld Fittings which is recognized for extraordinary quality and solid nature. Our product is utilized in the business. Handy architects utilize the finest quality material and propelled methods to fabricate these product at industry standards.
These are accessible in various determination and measurements according to the customers necessities. These are generally utilized as a part of different application industry, for example, oil & gas, chemical industry, conveying water and other fluids etc. We offer to our customers at exhaustive scope of Monel Alloy Buttweld Fittings at extremely reasonable prices.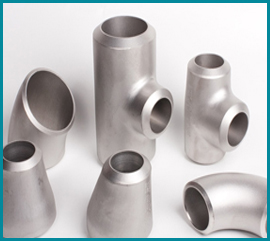 Specification of Buttweld Fittings
| | |
| --- | --- |
| Grade | Monel 400 (UNS No. N04400)/Monel K500 (UNS No. N05500) |
| Dimension Std. | ANSI/ASME B16.9, B16.28, MSS-SP-43. |
| Specifications | ASTM B 366 / ASME SB 366 |
| Size | ½" NB – 48" NB |
| Schedule | SCH 5 TO SCH XXS. |
| Types | Seamless / ERW / Welded / Fabricated |
Types of Buttweld Fittings
| | | |
| --- | --- | --- |
| Monel Alloy Reducers | Monel Alloy Concentric Reducers | Monel Alloy Tees |
| Monel Alloy Weldolet | Monel Alloy Short Stub End | Monel Alloy Eccentric Reducers |
| Monel Alloy Elbows | Monel Alloy 3D Elbow | Monel Alloy Lap Joint Stub End |
| Monel Alloy End Caps | Monel Alloy 5D Elbow | Monel Alloy 180° SR Return Bends |
| Monel Alloy Elbows | Monel Alloy Short Radius Elbow | Monel Alloy 45° Elbows |
| Monel Alloy Reducing Elbow | Monel Alloy Long Radius Elbow | Monel Alloy 180° LR Return Bends |
| Monel Alloy 45° Elbows | Monel Alloy Equal Tee | Monel Alloy UnEqual Tee |
| Monel Alloy Reducing Tee | Monel Alloy 1D Elbow | Monel Alloy 1.5D Elbow |
| Monel Alloy Long Stub Ends | Monel Alloy 2D Elbow | Monel Alloy 6D Elbow |
Chemical Composition
| Grade | Ni | Fe | C | Mn | Si | Cu | Al | Ti | S |
| --- | --- | --- | --- | --- | --- | --- | --- | --- | --- |
| K500 | 63.0 min | 05 - 2 | 0.25 max | 1.5 max | 0.5 max | 27.0 - 33.0 | 2.3 - 3.15 | 0.35 - 0.85 | 0.010 max |
| 400 | 63.0- 70.00 max | 2.50 max | 0.3 max | 2.00 max | 0.50 max | Remainder | - | - | 0.024 max |
Mechanical Properties
| Grade | Tensile (ksi) | .2% Yield (ksi) | Elongation % | Hardness (HRb) |
| --- | --- | --- | --- | --- |
| 400 | 75 to 90 | 25 to 50 | 60 to 35 | 60 to 80 |
| K500 | Psi – 1,60,000 , MPa – 1100 | Psi – 1,15,000 , MPa – 790 | 20 % | - |
Physical Properties of Monel 400
| | |
| --- | --- |
| Density@ Room Temp | 0.318 lb/in3 |
| Elastic Modulus @ 70ºF (tension) | 26.0 x 106psi |
| Specific Heat @ 70°F | 0.102 Btu/lb/°F |
| Melting Point | 2370°F to 2460°F |
| Thermal Conductivity @ 70°F | 151 Btu • in/h/ft 2 /°F |
| Electrical Resistivity @ 70°F | 0.511 μ Ω • m |
Physical Properties of Monel K500
| | |
| --- | --- |
| Density (Kg.m-1) | 84.3 |
| Magnetic Permeability (20°C) | <1.005 |
| Curie Temperature (°C) | -90 |
| Young's Modulus (N/mm2) | 179 x 103 |
| Specific Heat, 20°C (J.Kg-1.°K-1) | 418 |
| Specific Electrical Resistance, 20°C (?O.m) | 0.62 |
| Thermal conductivity,20°C (W.m-1.°K-1) | 17.5 |
| Mean coefficient of thermal expansion, 20-100°C (°K-1) | 13.4 x 10-6 |