Nickel Alloy 200/201 Buttweld Fittings
Nickel Alloy 200/201 UNS N02200/N02201 Buttweld Fittings | Nickel Alloy 200/201 ASTM B564 Buttweld Fittings | Nickel Alloy 200/201 ASME B16.11 Buttweld Fittings
Nickel Alloy 200/201 ASTM B160 Buttweld Fittings | Nickel Alloy 200/201 DIN 2.4066 / 2.4068 Buttweld Fittings | Nickel Alloy 200/201 ASTM B472 Buttweld Fittings
As an acclaimed undertaking of the business, Jainex Metal is included in offering an endless cluster of Nickel Alloy Buttweld Fittings as a maker, exporter, stockiest and supplier to our local and worldwide customers.
We also offer these Nickel Alloy Pipe Fittings in various sorts, for example, Nickel Alloy 200 Seamless Butt weld pipe fittings, Nickel Alloy 201 Welded Butt weld pipe fittings, Nickel Alloy 200 Elbow (45deg, 90deg, 180deg), Nickel Alloy 201 Equal and Unequal (lessening) Tees, Nickel Alloy 200 Equal and Unequal (diminishing) Cross, Nickel Alloy 201 Concentric and Eccentric Reducer, Nickel Alloy 201 Long and Short Stubends, and Nickel Alloy 200 Pipe End Caps.
In the interim, as for national and universal nature of raw materials, we likewise offer these UNS N02200 Buttweld Fittings and UNS N02201 Buttweld Fittings in customized sizes and thicknesses according to particular requests by our regarded customers at business sector driving costs.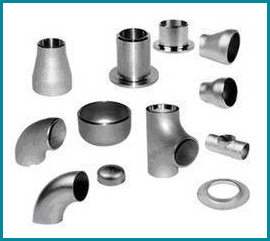 Specification of Buttweld Fittings
Grades
Nickel Alloy 200 (UNS No. N02200) 
Nickel Alloy 201 (UNS No. N02201)
Standard
ANSI/ASME B16.9, B16.28, MSS-SP-43.
Specification
ASTM B 366 / ASME SB 366
Size
½" NB – 48" NB
Type
Seamless / ERW / Welded / Fabricated.
Schedule
SCH 5 TO SCH XXS.
Types of Buttweld Fittings
| | | |
| --- | --- | --- |
| Nickel Alloy Reducers | Nickel Alloy Concentric Reducers | Nickel Alloy Tees |
| Nickel Alloy Weldolet | Nickel Alloy Short Stub End | Nickel Alloy Eccentric Reducers |
| Nickel Alloy Elbows | Nickel Alloy 3D Elbow | Nickel Alloy Lap Joint Stub End |
| Nickel Alloy End Caps | Nickel Alloy 5D Elbow | Nickel Alloy 180° SR Return Bends |
| Nickel Alloy Elbows | Nickel Alloy Short Radius Elbow | Nickel Alloy 45° Elbows |
| Nickel Alloy Reducing Elbow | Nickel Alloy Long Radius Elbow | Nickel Alloy 180° LR Return Bends |
| Nickel Alloy 45° Elbows | Nickel Alloy Equal Tee | Nickel Alloy UnEqual Tee |
| Nickel Alloy Reducing Tee | Nickel Alloy 1D Elbow | Nickel Alloy 1.5D Elbow |
| Nickel Alloy Long Stub Ends | Nickel Alloy 2D Elbow | Nickel Alloy 6D Elbow |
Chemical Composition
| Material / Purity: | Alloy 200 | Alloy 201 |
| --- | --- | --- |
| Ni | 99.00 | 99.00 |
| Fe | .40 | 0.40 |
| Mn | 0.35 | 0.35 |
| Si | 0.35 | 0.35 |
| C | 0.15 | 0.02 |
| S | 0.01 | 0.01 |
| Cu | 0.25 | 0.25 |
Mechanical Properties
Nickel Alloy 201
Properties
Metric
Imperial
Tensile strength (annealed)
403 MPa
58500 psi
Yield strength (annealed)
103 MPa
14900 psi
Elongation at break (annealed prior to test)
50%
50%
Nickel Alloy 200
Properties
Metric
Imperial
Tensile strength (annealed)
462 MPa
67000 psi
Yield strength (annealed)
148 MPa
21500 psi
Elongation at break (annealed prior to test)
45%
45%
Physical Properties
| | |
| --- | --- |
| Density | 8.902gm/cc |
| Melting Point | 1453 oC |
| Boiling Point | 2732 oC |
| Thermal Conductivity | 0.909 W/cm/K @ 298.2K |
| Electrical Resistivity | 6.84 microhm-cm @ 20 |
| Electronegativity | 1.8 Paulings |
| Specific Heat | 0.106 Cal/g/ K @ 25 |
| Heat of Vaporization | 91.0 K-Cal/gm atom at 2732 oC |
| Heat of Fusion | 4.20 Cal/gm mole |