Hastelloy Alloy Fasteners
Hastelloy C22/C276 UNS N10276/N06022/N10665 Fasteners | Hastelloy C22 Fasteners | Hastelloy C276 Fasteners
Hastelloy C22/C276 ASTM B160 Fasteners | Hastelloy C22/C276 ASTM B366 Fasteners | Hastelloy C22/C276 ASME SB472 Fasteners
As a greatly respected association in the business sector, we as Jainex Metal are very occupied with proposing a gathering of Hastelloy Fasteners as an exporter, producer, supplier, and stockiest to our overall customers at sensibly estimated costs. Our entire scope of products is being fabricated by utilizing best nature of crude materials cutting edge advancements under the supervision of talented experts. By method for having elements, for example, Low costs, Superior quality, Rigid development, etc, our latches are regarded amongst our clients for their dimensional precision and long useful life.
We play out the exhaustive distributing of our whole items. In the interim, we also offer these Hastelloy Alloy Fasteners in redid thicknesses and sizes according to the exact necessities given by our important clients in universal nature of principles.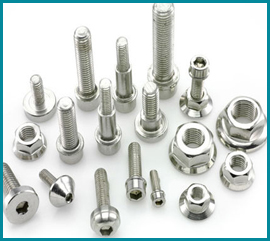 Specification
Standard
DIN, ASTM, BS and all International Standards
Specification
ASTM / ASME A/SA 193 / 194 IS: 1364, 1367, 3757, 6639, 3640
Grade
Hastelloy C22 (UNS N06022), C276((UNS N10276))
Werkstoff Nr
Hastelloy C22 - 2.4602
Hastelloy C276 - 2.4819
Size
M4 To M100, 3/8" Unc Till 4" UNC
Length
UPTO 1 METERS
Types
Nuts, Bolts, Screws, Sockets, Studs, Screw, Hex Set Screw, Socket Screw, Cap Screw, Pan Head Screw, Machine Screw, Socket Head Cap Screw, Allen Cap screw, Wing Screw, Washers, Spring Washers, Studs, Anchors, Marine Anchors, Nut, Hexagon Nut, Hex Nut, Hex Coupling Nut, Hex Domed Cap Nuts, Square Nut, Stud Bolts, Hex Head Bolts, Socket Hexagon Head Screw Anchor Bolt, U- Bolts, J Bolts, Mushroom Head Square Neck Bolts, T-Head Bolts, Wing Screw, Eye Bolt, Foundation Bolts, Structural Bolts.
Chemical Composition of Hastelloy C22
| Element | Min | Max |
| --- | --- | --- |
| Molybdenum | 12.5 | 14.5 |
| Chromium | 20.0 | 22.5 |
| Iron | 2.00 | 6.00 |
| Tungsten | 2.50 | 3.50 |
| Cobalt | -- | 2.50 |
| Carbon | -- | 0.010 |
| Silicon | -- | 0.08 |
| Manganese | -- | 0.50 |
| Vanadium | -- | 0.35 |
| Phosphorus | -- | 0.025 |
| Sulfur | -- | 0.010 |
Chemical Composition of Hastelloy C276
| Element | Min | Max |
| --- | --- | --- |
| Molybdenum | 15.0 | 17.0 |
| Chromium | 14.5 | 16.5 |
| Iron | 4.0 | 7.0 |
| Tungsten | 3.0 | 4.5 |
| Cobalt | -- | 2.50 |
| Manganese | -- | 2.5 |
| Carbon | -- | 1.0 |
| Vanadium | -- | .01 |
| Phosphorus | -- | 35 max |
| Sulfur | -- | .04 max |
| Silicon | -- | .03 max |
| Sulfur | -- | .08 max |
Mechanical Properties
| Grade | Tensile (ksi) | .2% Yield (ksi) | Elongation % | Hardness (HRb) |
| --- | --- | --- | --- | --- |
| C22 | 115 | 55 | 60 | 89 |
| C276 | 110 | 52.6 | 62 | - |
Physical Properties of Hastelloy C22
| | |
| --- | --- |
| Density | 0.314 lb/in3 |
| Specific Gravity | 8.69 lb/in3 |
| Specific Heat (Btu/lb/Deg F - [32-212 Deg F] | 0.1 |
| Melting Point (Deg F) | 2550 |
| Thermal Conductivity | 70 |
| Mean Coeff Thermal Expansion | 6.9 |
| Modulus of Elasticity Tension | 29.9 |
Physical Properties of Hastelloy C276
Physical Property
Temp., °F
British Units
Temp., °C
Metric Units
Density
72
0.321 lb/in.3
22
8.89 g/cm.3
Melting Range
2415-2500
1323-1371
Electrical Resistivity
75
51 microhm-in.
24
1.30 microhm-m
Mean Coefficient of 
Thermal Expansion
75-200
6.2 microinches/in.-°F
24-93
11.2 x 10-6 m/m•K
75-400
6.7 microinches/in.-°F
24-204
12.0 x 10-6 m/m•K
75-600
7.1 microinches/in.-°F
24-316
12.8 x 10-6 m/m•K
75-800
7.3 microinches/in.-°F
24-427
13.2 x 10-6 m/m•K
75-1000
7.4 microinches/in.-°F
24-538
13.4 x 10-6 m/m•K
Thermal Conductivity
-270
50 Btu-in./ft.2 hr.-°F
-168
7.2 W/m•K
-100
60 Btu-in./ft.2 hr.-°F
-73
8.6 W/m•K
0
65 Btu-in./ft.2 hr.-°F
-18
9.4 W/m•K
100
71 Btu-in./ft.2 hr.-°F
38
10.2 W/m•K
200
77 Btu-in./ft.2 hr.-°F
93
11.1 W/m•K
400
90 Btu-in./ft.2 hr.-°F
204
13.0 W/m•K
600
104 Btu-in./ft.2 hr.-°F
316
15.0 W/m•K
800
117 Btu-in./ft.2 hr.-°F
427
16.9 W/m•K
1000
132 Btu-in./ft.2 hr.-°F
538
19.0 W/m•K
Specific Heat
(Calculated)
Room
0.102 Btu/lb.-°F
Room
427 J/kg•K