Monel Alloy 400/K500 Fasteners
Monel Alloy 400/K500 UNS N04400/5500 Fasteners | Monel Alloy 400/K500 ASTM B160 Fasteners | Monel Alloy 400 Fasteners
Monel Alloy K500 Fasteners | Monel Alloy 400/K500 ASME B16.11 Fasteners | Monel Alloy 400/K500 DIN 2.4360/2.4375 Fasteners
As a greatly respected association in the business sector, we as Jainex Metal are very occupied with proposing a gathering of Monel Fasteners as an exporter, maker, supplier, and stockiest to our overall customers at sensibly evaluated costs. Erosion resistance of Monel Alloy 400 Fasteners (Monel 400 Fasteners) makes it perfect in applications, for example, piping systems, pump shafts, seawater valves, trolling wire, and strainer baskets.
Monel Alloy K500 Fasteners (Monel K500 Fasteners) are totally non-attractive and are utilized for stay link on board minesweepers, lodgings for attractive field estimation gear. In the interim, we too offer these Monel Alloy Fasteners (additionally alluded as UNS N04404 Fasteners and UNS N04405 Fasteners) in altered thicknesses and sizes according to the exact prerequisites given by our significant clients in worldwide nature of gauges.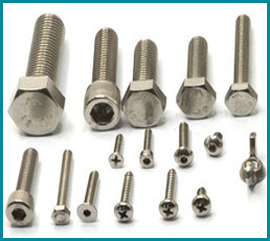 Specification
Standard
ASTM / ASME SB 161 / 163 / F 467
Grade
Monel 400 (UNS No. N02200), Monel K-500 (UNS N05500)
Werkstoff Nr
Monel 400 - 2.4360 
Monel K500 - 2.4375
Size
M10 TO M100
Length
UPTO 5 METERS
Types
Nuts, Bolts, Screws, Sockets, Studs, Screw, Hex Set Screw, Socket Screw, Cap Screw, Pan Head Screw, Machine Screw, Socket Head Cap Screw, Allen Cap screw, Wing Screw, Washers, Spring Washers, Studs, Anchors, Marine Anchors, Nut, Hexagon Nut, Hex Nut, Hex Coupling Nut, Hex Domed Cap Nuts, Square Nut, Stud Bolts, Hex Head Bolts, Socket Hexagon Head Screw Anchor Bolt, U- Bolts, J Bolts, Mushroom Head Square Neck Bolts, T-Head Bolts, Wing Screw, Eye Bolt, Foundation Bolts, Structural Bolts.
Chemical Composition
| Grade | Ni | Fe | C | Mn | Si | Cu | Al | Ti | S |
| --- | --- | --- | --- | --- | --- | --- | --- | --- | --- |
| K500 | 63.0 min | 05 - 2 | 0.25 max | 1.5 max | 0.5 max | 27.0 - 33.0 | 2.3 - 3.15 | 0.35 - 0.85 | 0.010 max |
| 400 | 63.0- 70.00 max | 2.50 max | 0.3 max | 2.00 max | 0.50 max | Remainder | - | - | 0.024 max |
Mechanical Properties
| Grade | Tensile (ksi) | .2% Yield (ksi) | Elongation % | Hardness (HRb) |
| --- | --- | --- | --- | --- |
| 400 | 75 to 90 | 25 to 50 | 60 to 35 | 60 to 80 |
| K500 | Psi – 1,60,000 , MPa – 1100 | Psi – 1,15,000 , MPa – 790 | 20 % | - |
Physical Properties of Monel 400
| | |
| --- | --- |
| Density@ Room Temp | 0.318 lb/in3 |
| Elastic Modulus @ 70ºF (tension) | 26.0 x 106psi |
| Specific Heat @ 70°F | 0.102 Btu/lb/°F |
| Melting Point | 2370°F to 2460°F |
| Thermal Conductivity @ 70°F | 151 Btu • in/h/ft 2 /°F |
| Electrical Resistivity @ 70°F | 0.511 μ Ω • m |
Physical Properties of Monel K500
| | |
| --- | --- |
| Density (Kg.m-1) | 84.3 |
| Magnetic Permeability (20°C) | <1.005 |
| Curie Temperature (°C) | -90 |
| Young's Modulus (N/mm2) | 179 x 103 |
| Specific Heat, 20°C (J.Kg-1.°K-1) | 418 |
| Specific Electrical Resistance, 20°C (?O.m) | 0.62 |
| Thermal conductivity,20°C (W.m-1.°K-1) | 17.5 |
| Mean coefficient of thermal expansion, 20-100°C (°K-1) | 13.4 x 10-6 |