Incoloy Alloy 800/800HT/825 Fasteners
Incoloy 800/800HT/825 UNS N08800/N08811/N08825 Fasteners | Incoloy 800/800HT/825 ANSI B16.11 Fasteners Manufacturer In India
Incoloy 800/800HT/825 ASTM B564 Fasteners | Incoloy 800/800HT/825 ASME B160 Fasteners | Incoloy 800/800HT/825 Fasteners Exporter In Mumbai
Jainex Metal has increased one of the most noteworthy positions in the business for amassing and supplying astonishing catch including Incoloy Alloy Fasteners. The way of the thing is the matter of previous thought for our association, so we make these hooks under the strict overall quality parameters of weight and size. We are advancing broad assortment of these fasten in particular estimations as indicated by the necessities of clients.
As a producer, supplier, stockiest and exporter, we offer these UNS N08800/11/25 Fasteners in specially designed sizes and thicknesses according to the careful requests of our regarded customers. We offer these Incoloy Alloy 800/800HT/825 Fasteners in worldwide and national nature of benchmarks at savvy rates to our supporters.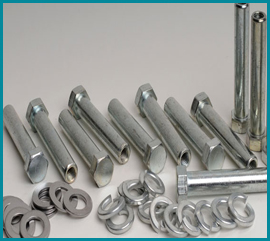 Specification
Standard
DIN, ASTM, BS and all International Standards
Grade
Incoloy 800 (UNS N08800)
Incoloy 800H (UNS N08810) 
Incoloy 800HT (UNS N08811)
Incoloy 825(UNS N08825)
Werkstoff Nr
1.4876/4958/59/2.4858
Specification
ASTM / ASME SB 160 / 164 / 425 / 166 / 446 / 574 / 472
Length
UPTO 1 METERS
Size
M10 TO M100
Types
Nuts, Bolts, Screws, Sockets, Studs, Screw, Hex Set Screw, Socket Screw, Cap Screw, Pan Head Screw, Machine Screw, Socket Head Cap Screw, Allen Cap screw, Wing Screw, Washers, Spring Washers, Studs, Anchors, Marine Anchors, Nut, Hexagon Nut, Hex Nut, Hex Coupling Nut, Hex Domed Cap Nuts, Square Nut, Stud Bolts, Hex Head Bolts, Socket Hexagon Head Screw Anchor Bolt, U- Bolts, J Bolts, Mushroom Head Square Neck Bolts, T-Head Bolts, Wing Screw, Eye Bolt, Foundation Bolts, Structural Bolts.
Chemical Composition
| Incoloy | 800 | 800H | 825 |
| --- | --- | --- | --- |
| Ni | 30-35 | 30-35 | 38.0 – 46.0 |
| Fe | 39.5 min | 39.5 min | 22.0 min |
| Cr | 19-23 | 19-23 | 19.5 - 23.5 |
| Cu | 0.75 max | 0.75 max | 1.5 - 3.0 |
| Ti | 0.15-0.60 | 0.15-0.60 | 0.6 - 1.2 |
| Al | 0.15-0.60 | 0.15-0.60 | 0.2 max |
| C | 0.1 max | 0.05-0.1 | 0.05 max |
| Mn | 1.5 max | 1.5 max | 1.0 max |
| S | 0.015 max | 0.015 max | 0.015 max |
| Si | 1.0 max | 1.0 max | 0.5 max |
| Mb | - | - | 2.5 - 3.5 |
Mechanical Properties
Inconel 800/800HT
Tensile Strength
Psi – 75,000 , MPa – 520
Yield Strength (0.2%Offset)
Psi – 30,000 , MPa –205
Elongation
30 %
Inconel 825
Tensile Strength
Psi – 80,000 , MPa – 550
Yield Strength (0.2%Offset)
Psi – 32,000 , MPa –220
Elongation
30 %
Physical Properties of Incoloy 800/800HT
Density
lbm/in3
Thermal Conductivity
(BTU/h ft. °F)
Electrical
Resistivity
(in x 10-6)
Modulus of
Elasticity
(psi x 106
Coefficient of
Thermal Expansion
(in/in)/
°F x 10-6
Specific Heat
(BTU/lb/
°F)
Melting
Range
(°F)
at 68°F: 0.285
9.4 at 212°F
28.3 at 68°F
28
9.4 at 32 – 212°F
0.1200 at 68°F to 212°F
2500 to 2590
12.4 at 932 °F
39.4 at 752°F
10.2 at 32 – 1000°F
49.6 at 1652 °F
10.4 at 32 – 1500°F
Physical Properties of Incoloy 825
| | |
| --- | --- |
| Density | 8.14 g/cm3 |
| Melting Point | 1400 °C (2550 °F) |