Stainless Steel 410/446 Pipes & Tubes
ASTM A312 SS UNS S41000 Seamless & Welded Pipes & Tubes | SS 410/446 Seamless & Welded Pipes & Tubes
Stainless Steel 410 Seamless & Welded Pipes And Tubes | Stainless Steel 446 Seamless & Welded Pipes And Tubes Manufacturer
As an acclaimed undertaking of the business, Jainex Metal are included in offering an immense exhibit of Stainless Steel 410/446 Pipes and Tubes as a maker, exporter, stockiest and supplier to our local and worldwide customers. By using aptitudes of our agile fingered workforce, we are putting forth a far reaching arrangement of 410 Stainless Steel Pipes and Tubes (too known as WNR 1.4006 Pipes and Tubes).
With components, for example, Non destructive, Sturdiness and Easy to fit, we offer these UNS S41000 Pipes and Tubes in various particulars at pocket benevolent cost. Concerning national and universal nature of crude materials, we likewise offer these SS 410/446 Pipes and Tubes in modified sizes and thicknesses according to particular requests by our regarded customers at business sector driving costs.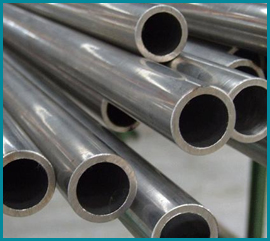 Specification Of Stainless Steel 410/446 Seamless & Welded Pipes And Tubes
Standard
410 -     ASTM /ASME A/SA 213 / 249 / 269 / 312 / 358 CL. I to V 
446 - ASTM /ASME A/SA 213 / 249/ 269 / 312 / 358 CL. I to V 

SEAMLESS 410/446 Pipes & Tubes
1/2" NB - 16" NB
ERW 410/446 Pipes & Tubes
1/2" NB - 24" NB
EFW 410/446 Pipes & Tubes
6" NB - 100" NB
Certifications
IBR AND NON IBR
Schedule
SCH 10 – SCH XXS
Type
Seamless / ERW / EFW/ Fabricated / LSAW Pipes
Form
Round, Square, Rectangular, Hydraulic Etc
Length
Single Random, Double Random & Cut Length.
End
Plain End, Beveled End, Threaded
Application
Cutlery, Steam and gas turbine blades, Kitchen utensils, Bolts, nuts, screws, Pump and valve parts and shafts, Mine ladder rugs, Dental and surgical instruments, Nozzles, Hardened steel balls and seats for oil well pumps.
Chemical Composition Of Stainless Steel 410/446 Seamless & Welded Pipes And Tubes
Grade
C
Mn
Si
P
S
Cr
Ni
410
0.15 max
1.00 max
1.00 max
0.04 max
0.03 max
min: 11.5
max: 13.5
0.50 max
446
0.20 max
1.50 max
1.0 max
0.040 max
0.030 max
min: 23.0
max: 27.0
0.25 max
Mechanical Properties Of Stainless Steel 410/446 Seamless & Welded Pipes And Tubes
| Grade | Tensile Strength ksi (MPa) min | Yield Strength 0.2% offset ksi (MPa) min | Elongation (% in 50mm) min | Hardness (Brinell) MAX | Hardness (Rockwell B) MAX |
| --- | --- | --- | --- | --- | --- |
| 410 | 65 (450) | 30 (205) | 20 | 217 | 96 |
| 446 | 550 | 345 | 20 | 159 | 51.1 |
Physical Properties Of Stainless Steel 410/446 Seamless & Welded Pipes And Tubes
Grade
Density
lbm/in3
Thermal Conductivity
(BTU/h ft. °F)
Electrical
Resistivity
(in x 10-6)
Modulus of
Elasticity
(psi x 106
Coefficient of
Thermal Expansion
(in/in)/
°F x 10-6
Specific Heat
(BTU/lb/
°F)
Melting
Range
(°F)
410
at 68°F: 0.276
14.4 at 212°F
56 at 68°F
29
5.90 at 68 – 392°F
0.11 at 68°F to 212°F
2700 to 2790
446
0.282
150
1.1
29000 ksi
5.78
500J/kg