Stainless Steel 309/310/310S Forged Fittings
Stainless Steel 309 Forged Fittings | Stainless Steel 310 Forged Fittings | Stainless Steel 310S Forged Fittings Manufacturer
SS 309/310/310S UNS S30900/S31000/S31008 Forged Fittings | SS 304/304L/304H DIN 1.4841/1.4845 Forged Fittings | ASTM A182 Forged Fittings
Jianex Metal is a main maker and exporter of Stainless Steel 309/310/310S Forged Fittings that are being planned according to the national and global standard nature of crude materials and along these lines ensuring their solidness and high caliber.
Manufacturing in SS 310 Forged Fittings (WNR 1.4841), SS 310S Forged Fittings (WNR 1.4845) and SS 309 Forged Fittings has been finished by smiths for centuries; the conventional items were kitchenware, equipment, hand devices, edged weapons, and adornments. In the mean time, we offer a comprehensive scope of stainless steel Forged fittings, for example, SS 309 Screwed Union, SS 310S Screwed Elbow, SS 310 Screwed Tee, SS 309 Screwed Cross, SS 310 Weldolet, SS 310S Screwed bushing, etc
Additionally refereed as UNS S30900, UNS S31000 & UNS S31008, these SS 309/310/310S Forged Fittings can further be redone as far as thicknesses and sizes according to the particular prerequisites given by our customers.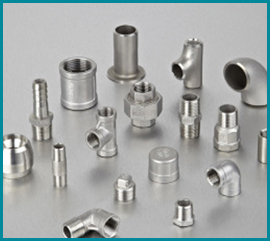 Specification of Forged Fittings
Grade
SS 309/310/310S (UNS S30900/S31000/S31008)
Werkstoff Nr
310 / 1.4841
310S / 1.4845
Standard
ASTM A182 / ASME SA182
Specification
ASME 16.11, MSS SP-79, 83, 95, 97, BS 3799
Size
½" NB – 4" NB
Pressure
2000LBS, 3000LBS, 6000LBS, 9000LBS, etc.
Type
Socket Weld (S/W) & SCREWED (SCRD) – NPT, BSP, BSPT, Threaded Fitting
Types of Forged Fittings
| | | |
| --- | --- | --- |
| Stainless Steel Socket Weld Caps | Stainless Steel Socket Weld Tee | Stainless Steel Socket Weld Unions |
| Stainless Steel Couplings | Stainless Steel Forged Reducers | Stainless Steel Socket Weld Cross |
| Stainless Steel Socket Weld 90° Elbows | Stainless Steel Socket Weld Full Coupling | Stainless Steel Socket Weld Half Coupling |
| Stainless Steel Socket Weld 45° Elbows | Stainless Steel Socket Weld Reducing Coupling | Stainless Steel Screwed Unions |
| Stainless Steel Screwed 45° Elbows | Stainless Steel Screwed 90° Elbows | Stainless Steel Screwed Tee |
| Stainless Steel Screwed Cross | Stainless Steel Screwed Hex Plug | Stainless Steel Screwed Squared Plug |
| Stainless Steel Screwed Hex Nipple | Stainless Steel Screwed Bushing | Stainless Steel Screwed Full Coupling |
| Stainless Steel Screwed Half Couplings | Stainless Steel Screwed Reducing Couplings | Stainless Steel Screwed Caps |
| Stainless Steel Weldolet | Stainless Steel Sockolet | Stainless Steel Threadolet |
| Stainless Steel Elbolet | Stainless Steel Nipolet | Stainless Steel Latrolet |
| Stainless Steel Concentric Swage Nipple | Stainless Steel Eccentric Swage Nipple | Stainless Steel Forged Pipe Nipple |
Chemical Composition
SS 309
SS 310
SS 310S
Ni
14 max
19 – 22
19 – 22
Cr
23 max
24 – 26
24 – 26
C
0.20 max
0.25 max
0.08 max
Fe
60 max
Balance
Mn
2 max
2 max
2 max
Si
1 max
1.50 max
1.50 max
S
0.030 max
0.03 max
0.03 max
P
0.045 max
0.045 max
0.045 max
Mechanical Properties
| | SS 309 | SS 310 | SS 310S |
| --- | --- | --- | --- |
| Tensile Strength | Psi – 89900 , MPa – 620 | Psi – 75000 , MPa – 515 | Psi – 75000 , MPa – 515 |
| Yield Strength (0.2%Offset) | Psi – 45000 , MPa – 310 | Psi – 30000 , MPa – 205 | Psi – 30000 , MPa – 205 |
| Elongation | 45 % | 35 % | 35 % |
Physical Properties
| | SS 309 | SS 310 | SS 310 |
| --- | --- | --- | --- |
| Density | 8.0 g/cm3 | 8.0 g/cm3 | 8.0 g/cm3 |
| Melting Point | 1455 °C (2650 °F) | 1454 °C (2650 °F) | 1454 °C (2650 °F) |