Stainless Steel 309/310/310S Round Bars & Rods
ASME SA 276 Stainless Steel UNS S30900/S31000/S30908 Bars & Rods | SS 309/310/310S Round Bars & Rods | Round Bars & Rods
Stainless Steel ASTM A479 309/310/310S Round Bars & Rods Manufacturer In Mumbai | DIN 1.4828/1.4841/1.4845 SS Round Rods
As an acclaimed venture of the business, Jainex Metal is included in offering an incomprehensible exhibit of Stainless Steel 309/310/310S Round Bars (SS 309/310/310S Round Bars)as a producer, exporter, stockiest and supplier to our household and worldwide customers. Stainless Steel 309/310/310S Bars (SS 309/310/310S Bars) are utilized for various commercial enterprises, for example, Food Processing, Chemical Industry, Brewing, Pharmaceuticals, Petrochemicals, and then some. Stainless Steel 309/310/310S Rods (SS 309/310/310S Rods) is utilized for a few applications, for example, in Condensers, Pressure Vessels, Heat Exchangers, Flanges and fittings, Pipelines, Valves, etc
With respect to national and universal nature of raw materials, we likewise offer these UNS S30900/S31000/S31008 Round Bars (otherwise called WNR 1.4845 Bars) in modified sizes and thicknesses according to particular requests by our regarded customers at business sector driving costs.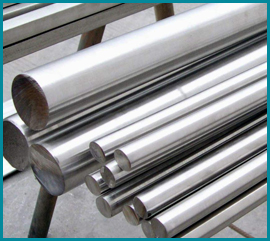 Specification
Standard
310 / 1.4841
310S / 1.4845 
309 /1.4828
Designation
ASTM, ASME, AISI A 276 , SA 276, A 479, SA 479
Range
3 MM TO 350 MM DIA
Finish
Bright, Polish & Black
Form
Round, Square, Hex (A/F), Rectangle, Wire (Coil Form), Wire-mesh, Billet, Ingot, Forging Etc.
Application
Furnace parts, Oil burner parts, Carburising boxes, Heat Treatment baskets and jigs, Heat Exchangers, Welding filler wire and electrodes.
Chemical Composition
SS 310
SS 310S
SS 309
Ni
19 – 22
19 – 22
14
Cr
24 – 26
24 – 26
23
C
0.25 max
0.08 max
0.20
Fe
Balance
0.20
Mn
2 max
2 max
2 max
Si
1.50 max
1.50 max
1
S
0.03 max
0.03 max
0.30 max
P
0.045 max
0.045 max
0.045 max
Mechanical Properties of SS 309
| Tensile Strength ksi (min) | Yield Strength 0.2% ksi (min) | Elongation % | Hardness (Brinell) MAX |
| --- | --- | --- | --- |
| 40 | 30 | 40 | 217 |
Mechanical Properties of SS 310/310S
| | |
| --- | --- |
| Tensile Strength | Psi – 75000 , MPa – 515 |
| Yield Strength (0.2%Offset) | Psi – 30000 , MPa – 205 |
| Elongation | 35 % |
Physical Properties of SS 310/310S
| | |
| --- | --- |
| Density | 8.0 g/cm3 |
| Melting Point | 1454 °C (2650 °F) |
Physical Properties of SS 309
Density
lbm/in3
Thermal Conductivity
(BTU/h ft. °F)
Electrical
Resistivity
(in x 10-6)
Modulus of
Elasticity
(psi x 106
Coefficient of
Thermal Expansion
(in/in)/
°F x 10-6
Specific Heat
(BTU/lb/
°F)
Melting
Range
(°F)
at 68°F: 0.285
9.0 at 32- 212°F
30.7 at 68°F
28.5
8.28 at 32 – 212°F
0.1200 at 68°F to 212°F
2500-2590