Stainless Steel 321/321H Round Bars & Rods
ASME SA 276 Stainless Steel UNS S32100/S32109 Bars & Rods | SS 321/321H Round Bars | Round Bars And Roos
Stainless Steel ASTM A479 321/321H Round Bars & Rods Manufacturer In Mumbai | DIN 1.4541/1.4878 SS Round Rods
As an acclaimed undertaking of the business, Jainex Metal is included in offering a boundless exhibit of Stainless Steel 321/321H Round Bars(SS 321/321H Round Bars) as a maker, exporter, stockiest and supplier to our local and worldwide customers. Stainless Steel 321/321H Bars is broadly utilized as a part of general building applications. SS 321/321H Bars is likewise utilized as a part of warmth exchanger application. Then again, these Stainless Steel 321/321H Rods is utilized as a part of refineries, force plants and ship structures.
We create SS 321/321H Rods which are of premium quality. With appreciation to national and worldwide nature of crude materials, we additionally offer these UNS S32100/S32109 Round Bars (otherwise called WNR 1.4541/1.4878 Bars) in redid sizes and thicknesses according to particular demands by our regarded customers at business sector driving costs.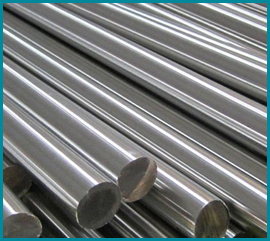 Specification
Standard
321 / 1.4541
321H / 1.4878
Designation
ASTM, ASME, AISI A 276 , SA 276, A 479, SA 479
Range
3 MM TO 350 MM DIA
Finish
Bright, Polish & Black
Form
Round, Square, Hex (A/F), Rectangle, Wire (Coil Form), Wire-mesh, Billet, Ingot, Forging Etc.
Application
Aerospace – piston engine manifolds, Chemical Processing, Expansion Joints, Food Processing – equipment and storage, Petroleum Refining – polythionic acid service, Waste Treatment – thermal oxidizers.
Chemical Composition
%
Cr
Ni
C
Si
Mn
P
S
N
Ti
Fe
321
min:17.0
max:19.0
min: 9.0
max:12.0
max:0.08
max:0.75
max:2.0
max:0.045
max:0.03
max:0.10
min:5*(C+N)
max:0.70
Balance
321H
min:17.0
max:19.0
min: 9.0
max:12.0
min:0.04
max:0.10
max:0.75
max:2.0
max:0.045
max:0.03
max:0.10
min:5*(C+N)
max:0.70
Balance
Mechanical Properties
Grade
Tensile Strength
ksi (min.)
Yield Strength 0.2%
Offset ksi (min.)
Elongation -
% in
50 mm (min.)
Hardness
(Brinell) MAX
321/321H
75
30
40
217
Physical Properties
Denstiy
lbm/in3
Coefficient of
Thermal Expansion (min/in)-°F
Thermal Conductivity BTU/hr-ft-°F
Specific Heat BTU/lbm -°F
Modules of Elasticity (annealed)2-psi
at 68 °F
at 68 – 212°F
at 68 – 1832°F
at 200°F
at 32 – 212°F
in tension (E)
0.286
9.2
20.5
9.3
0.12
28 x 106