Stainless Steel 316/316L/316Ti Round Bars & Rods
ASME SA276 Stainless Steel UNS S31600/S31603/S31635 Bars & Rods | SS 316/316L/316Ti Round Bars | Round Bars And Rods
Stainless Steel ASTM A479 316/316L/316Ti Round Bars & Rods Manufacturer In Mumbai | DIN 1.4401/1.4404/1.4571 SS Round Rods
As an acclaimed endeavor of the business, Jainex Metal is included in offering an immense cluster of Stainless Steel 316/316L/316Ti Round Bars (SS 316/316L/316Ti Round Bars) as a maker, exporter, stockiest and supplier to our local and worldwide customers. Stainless Steel 316/316L/316Ti Bars (SS 316/316L/316Ti Bars) is molybdenum-bearing austenitic steels that is more impervious to basic erosion and setting/cleft consumption than the copy-cat chromium-nickel austenitic steels, for example, Stainless Steel 304.
These Stainless Steel 316/316L/316Ti Rods (SS 316/316L/316Ti Rods) additionally give higher creep, tensile strength and stress-to-rupture at high temperature. As for national and worldwide nature of crude materials, we additionally offer these UNS S31600/S31603/S31635 Round Bars (otherwise called WNR 1.4401/1.4404/1.4571 Bars) in altered sizes and thicknesses according to particular requests by our regarded customers at business sector driving costs.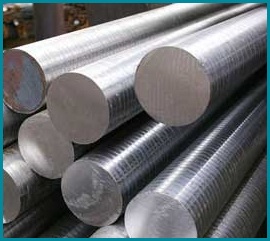 Specification
Standard
316 / 1.4401
316L / 1.4404
316TI/1.4571
Designation
ASTM, ASME, AISI A 276 , SA 276, A 479, SA 479
Range
3 MM TO 350 MM DIA
Finish
Bright, Polish & Black
Form
Round, Square, Hex (A/F), Rectangle, Wire (Coil Form), Wire-mesh, Billet, Ingot, Forging Etc.
Application
Food preparation equipment, especially in chloride environments, Chemical processing, equipment, Laboratory benches and equipment, Rubber, plastics, pulp & paper machinery, Pollution control equipment, Boat fittings, value and pump trim, Heat exchangers, Pharmaceutical and textile industries, Condensers, evaporators and tanks.
Chemical Composition
C
Mn
Si
P
S
Cr
Mo
Ni
N
316
(S31600)
0.08
max
2.0
max
0.75
max
0.045
max
0.03
max
min: 16.0
max: 18.0
min: 2.0
max: 3.0
min: 10.0
max: 14.0
0.10
max
316L
(S31603)
0.03
max
2.0
max
0.75
max
0.045
max
0.03
max
min: 16.0
max: 18.0
min: 2.0
max: 3.0
min: 10.0
max: 14.0
0.10
max
316TI(S31635)
-
-
-
-
-
16.0
2.00
10.0
-
0.08
2
0.75
0.045
0.03
18.0
3.00
14.0
0.1
Mechanical Properties
Grade
Tensile Strength
ksi (min)
Yield Strength
0.2% ksi (min)
Elongation %
Hardness (Brinell) MAX
Hardness
(Rockwell B) MAX
316
(S31600)
75
30
40
217
95
316L
(S31603)
70
25
40
217
95
316TI(S31635)
515(Mpa)
205(Mpa)
35
205
75
Physical Properties of 316/316L
Density
lbm/in3
Thermal Conductivity
(BTU/h ft. °F)
Electrical
Resistivity
(in x 10-6)
Modulus of
Elasticity
(psi x 106
Coefficient of
Thermal Expansion
(in/in)/°F x 10-6
Specific Heat
(BTU/lb/°F)
Melting
Range (°F)
0.29 at 68°F
100.8 at 68 212°F
29.1 at 68°F
29
8.9 at 32 – 212°F
0.108 at 68°F
2500 to 2550
9.7 at 32 – 1000°F
0.116 at 200°F
11.1 at 32 – 1500°F
Physical Properties of 316H
Physical Properties (Room Temperature)

Specific Heat (0-100°C)

500

J.kg-1.°K-1

Thermal Conductivity

14.6

W.m -1.°K-1

Thermal Expansion

16.5

mm/m/°C

Modulus Elasticity

193

GPa

Electrical Resistivity

7.4

μohm/cm

Density

7.99

g/cm3