Alloy 20 Flanges
Alloy 20 Flanges Supplier In India | Alloy 20 UNS N08020 Flanges | Alloy 20 DIN 2.4660 Flanges Stockist In Mumbai
Alloy 20 ASTM B 564 Flanges | Alloy 20 ASME B16.5 Flanges | Alloy 20 ASME B 16.47 Flanges
Jainex Metal is one of the prime makers of Alloy 20 Flanges that are being sourced by utilizing high caliber of raw material and tries to give strength of most elevated nature of industry standard items.
Alloy 20 is one of the supposed "Super" stainless steels that was intended for greatest resistance to corrosive assault. It's nickel, chromium, molybdenum and copper content add to its general imperviousness to chlorideon stress erosion breaking and general setting assault. The compound is balanced out with columbium to minimize carbide precipitation amid welding. It has great mechanical properties and can be created without hardly lifting a finger. Athough the amalgam was intended for use in sulfuric corrosive related businesses, it finds wide utilization all through the synthetic preparing industry.
It additionally is utilized for preparing pharmaceuticals, nourishment, fuel, solvents, plastics, explosives, engineered strands and numerous different products.
Likewise alluded as UNS N08020, these Alloy 20 Flanges can further be tweaked regarding sizes and thicknesses according to particular necessities given by our regarded customers. We offer the same at business sector driving costs.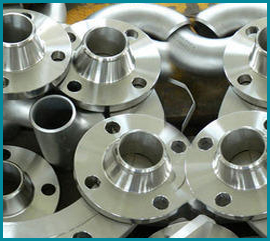 Specification of Flanges
| | |
| --- | --- |
| Standard | ASTM, ASME Flanges, ANSI Flanges, DIN Flanges, EN Flanges, BS Flanges etc. |
| Dimension Std. | ANSI/ASME B16.5, B 16.47 Series A & B, B16.48, BS4504, BS 10, EN-1092, DIN, etc. |
| Grades | Alloy 20 (UNS N08020), 2.4660 |
| Specification | ASTM B 564 / ASME SB 564 |
| Size | ½" NB – 48" NB |
| Class | 150#, 300#, 600#, 900#, 1500#, 2500#, etc. |
| Pressure | DIN PN6, PN10, PN16, PN25, PN40, PN64, PN100, PN160, etc. |
Types of Flanges
| | | |
| --- | --- | --- |
| Alloy 20 Blind Flanges | Alloy 20 Reducing Flanges | Alloy 20 Ring Type Flanges |
| Alloy 20 Spectacle Flanges | Alloy 20 Weld Neck Flanges | Alloy 20 High Hub Flanges |
| Alloy 20 Threaded Flanges | Alloy 20 Lap Joint Flanges | Alloy 20 Long weld Neck Flanges |
| Alloy 20 Slip-On Flanges | Alloy 20 Socket Weld Flanges | Alloy 20 Orifice Flanges |
Chemical Composition
| Element | Alloy 20 |
| --- | --- |
| Ni | 32 - 38 |
| Fe | Bal |
| C | 0.07max |
| Mn | 2max |
| Si | 1.0max |
| Cu | 3 - 4 |
| Cr | 19 - 21 |
| Mo | 2 - 3 |
| S | 0.035max |
| P | 0.045max |
| Nb | 1.0max |
Mechanical Properties
| Element | Alloy 20 |
| --- | --- |
| Density | 8.1 g/cm3 |
| Melting Point | 1443 °C (2430 °F) |
| Tensile Strength | Psi -80,000, MPa -551 |
| Yield Strength (0.2%Offset) | Psi - 35,000, MPa - 241 |
| Elongation | 30 % |