Inconel Alloy 600/601/625/718 Flanges
Inconel UNS N06600/N06601/N06625/NO7718 Flanges | Inconel Alloy 600 Flanges | Inconel Alloy DIN 2.4816/2.4851/2.4856/2.4668 Flanges
Inconel Alloy 600/601/625/718 ASTM B564 Flanges | Inconel Alloy 600/601/625/718 ANSI B16.5 Flanges | Inconel Alloy 625 Flanges
As an abundantly appreciated association in the business sector, we as Jainex Metal are entirely occupied with proposing an accumulation of Inconel 600, 601, 625, 718 Flanges as an exporter, producer, supplier, and stockiest to our overall customers at sensibly valued expenses. We are viewed as a prominent supplier and maker of a huge aggregation of such Flanges. Concerning distinctive evaluations, we offer these Inconel 600, 601, 625, 718 Flanges in various sorts.
Inconel Blind Flanges, Inconel Weld Neck Flanges, Inconel Socket Weld Flanges, Inconel Spectacle Blind Flanges, Inconel Screwed/Threaded Flanges, Inconel Reducing Flanges, and Inconel Ring Type Joint Flanges (RTJ).
In the interim, we also offer these Inconel Alloy 600, 601, 625, 718 Flanges in customized thicknesses and sizes according to the exact prerequisites given by our significant clients in worldwide nature of norms.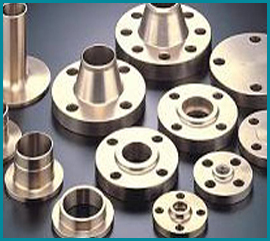 Specification of Flanges
| | |
| --- | --- |
| Grade | Inconel 600 (UNS No. N06600),Inconel 601(UNS No N06601),Inconel 625 (UNS No N06625), Inconel 718 (UNS NO7718) |
| Werkstoff Nr | 2.4816/2.4851/2.4856/2.4668 |
| Standards | ASTM, ASME Flanges, ANSI Flanges, DIN Flanges, EN Flanges, BS Flanges etc. |
| Specifications | ASTM B 564 / ASME SB 564 |
| Dimension Std. | ANSI B16.5, ANSI B16.47 Series A & B, MSS SP44, ASA, API-605, AWWA, Custom Drawings |
| Size | ½" NB - 48″ NB |
| Class | 150#, 300#, 600#, 900#, 1500#, 2500# etc. |
| Pressure | DIN PN6, PN10, PN16, PN25, PN40, PN64, PN100, PN160, etc |
Types of Flanges
| | | |
| --- | --- | --- |
| Inconel Alloy Blind Flanges | Inconel Alloy Reducing Flanges | Inconel Alloy Ring Type Flanges |
| Inconel Alloy Spectacle Flanges | Inconel Alloy Weld Neck Flanges | Inconel Alloy High Hub Flanges |
| Inconel Alloy Threaded Flanges | Inconel Alloy Lap Joint Flanges | Inconel Alloy Long weld Neck Flanges |
| Inconel Alloy Slip-On Flanges | Inconel Alloy Socket Weld Flanges | Inconel Alloy Orifice Flanges |
Chemical Composition
| Grade | Ni | Fe | C | Mn | Si | Cu | Cr | S | Mo | Co | Al | Ti | P | Nb/Cb | Ta |
| --- | --- | --- | --- | --- | --- | --- | --- | --- | --- | --- | --- | --- | --- | --- | --- |
| 600 | 72.0 min | 6.0 - 10.0 | 0.15 max | 1.0 max | 0.5 max | 0.5 max | 14.0 - 17.0 | 0.015 max | - | - | - | - | - | - | - |
| 601 | 58.0 – 63.0 | Balance | 0.10 max | 1.0 max | 0.50 max | 1.0 max | 21.0 – 25.0 | 0.015 max | 8.0-10.0 | - | 1.0 – 1.7 | - | - | - | - |
| 625 | 58.0 min | 5.00 | 0.10 max | 0.50 max | 0.50 max | 0.5 max | 20.0 - 23.0 | 0.015 max | 8.00 - 10.00 | 1.00 | 0.40 | 0.40 | 0.015 | 3.15 - 4.15 | 0.05 |
| 718 | 50.00-55.00 | Remainder | 0.08 max | 0.35 max | 0.35 max | 0.30 max max | 17.00-21.00 | 0.015 max | 2.80-3.30 | 1.00 | 1.00 max | 0.65-1.15 | 0.015 max | 4.75-5.50 | - |
Mechanical Properties of Inconel 600/601
| Grade | Tensile (psi) | .2% Yield (psi) | Elongation (%) |
| --- | --- | --- | --- |
| 600 | 95,000 | 45,000 | 40 |
| 601 | 80,000 | 30,000 | 35 |
Mechanical Properties of Inconel 625
| Temp° F | Tensile (psi) | .2% Yield (psi) | Elongation in 2 " (%) |
| --- | --- | --- | --- |
| 70 | 144,000 | 84,000 | 44 |
| 400 | 134,000 | 66,000 | 45 |
| 600 | 132,000 | 63,000 | 42.5 |
| 800 | 131,500 | 61,000 | 45 |
| 1000 | 130,000 | 60,500 | 48 |
| 1200 | 119,000 | 60,000 | 34 |
| 1400 | 78,000 | 58,500 | 59 |
| 1600 | 40,000 | 39,000 | 117 |
Mechanical Properties of Inconel 718
| Ultimate Tensile Strength, psi | .2% Yield Strength psi | Elongation % | Hardness Rockwell B |
| --- | --- | --- | --- |
| 135,000 | 70,000 | 45 | 100 |