Duplex Steel Flanges
Duplex Steel 2205 Flanges Manufacturer | Duplex Steel 2205 ASTM A182 Flanges | Duplex Steel 2205 ASME B16.5 Flanges
Duplex Steel 2205 UNS S31803 Flanges | Duplex Steel 2205 DIN 1.4462 Flanges | Duplex Steel 2205 ANSI B 16.47 Flanges
By using abilities of our accomplished experts, we at Jainex Metal are manufacturing, exporting and supplying a comprehensive assortment of Duplex Steel 2205 Flanges.
We are assembling Duplex Steel 2205 flanges in different shapes, size, grades and specifiaction with ANSI/ASME and DIN models. Jainex Metal most favored maker in INDIA to fabricate Duplex Steel 2205 Flanges for Critical Applications, We produce and stock even odd sizes and elusive ribs in Duplex Steel and Super Duplex Steel. We produce Super Duplex Steel Blind Flanges, Duplex Steel Threaded Flanges, Super Duplex Steel Orifice Flanges, Duplex Steel WNRF Flanges, Super Duplex Steel Slip On Flanges, Duplex Steel Lap Joint Flanges, Super Duplex Steel Reducing Flanges, Duplex Steel Socket weld Flanges and all shapes and size in Duplex steel and Super Duplex Steel material. Our Duplex Steel and Super Duplex Steel ribs are according to ASME B16.9, ASME B16.28. standard.
Our Duplex Steel Flanges are utilized as a part of Marine building, Chemical preparing, Hydro-carbon handling, Heat exchangers, Valves producing, Pumps fabricating, Petrochemical plants, Nuclear force ventures, Oil and Gas hardware manufacturing.
Duplex Steel 2205 Flanges are designed in such a way that it possesses features such as Flawless finish, Sturdy design and it is Rust proof. We at Jainex Metal makes sure that our product goes through various level of quality phase and ensures on time delivery of the product.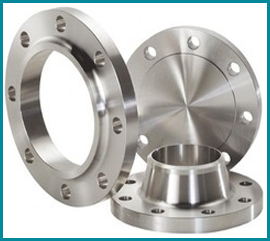 Specification of Flanges
| | |
| --- | --- |
| Grade | Duplex Stainless 2205 (UNS N0 S31803 / S32205) , F51 / F52 / F53 / F54 / F55 / F57 / F59 / F60 / F61 |
| Werkstoff Nr | 1.4462 |
| Standard | ANSI Flanges, ASME Flanges, BS Flanges, DIN Flanges, EN Flanges, etc. |
| Dimension Std. | ANSI/ASME B16.5, B 16.47 Series A & B, B16.48, BS4504, BS 10, EN-1092, DIN, etc. |
| Specification | ASTM A182 / ASME SA182 |
| Size | ½" NB – 48" NB |
| Class | 150#, 300#, 600#, 900#, 1500#, 2500#, etc |
| Pressure | DIN PN6, PN10, PN16, PN25, PN40, PN64, PN100, PN160, etc |
Types of Flanges
| | | |
| --- | --- | --- |
| Duplex Steel Blind Flanges | Duplex Steel Reducing Flanges | Duplex Steel Ring Type Flanges |
| Duplex Steel Spectacle Flanges | Duplex Steel Weld Neck Flanges | Duplex Steel High Hub Flanges |
| Duplex Steel Threaded Flanges | Duplex Steel Lap Joint Flanges | Duplex Steel Long weld Neck Flanges |
| Duplex Steel Slip-On Flanges | Duplex Steel Socket Weld Flanges | Duplex Steel Orifice Flanges |
Chemical Composition
| Grade | Common Name | C% | Mn% | Si% | P% | S% | Cr% | Ni% | Mo% | N% |
| --- | --- | --- | --- | --- | --- | --- | --- | --- | --- | --- |
| 2205 | S31803 | 0.030 | 2.00 | 1.00 | 0.030 | 0.020 | 21.0-23.0 | 4.5-6.5 | 2.5-3.5 | 0.08-0.20 |
| 2205 | S32205 | 0.030 | 2.00 | 1.00 | 0.030 | 0.020 | 22.0-23.0 | 4.5-6.5 | 3.0-3.5 | 0.14-0.20 |
Mechanical Properties
| | | | |
| --- | --- | --- | --- |
| Tensile strength | 620MPa min | Density | 7,805kg/m3 |
| Yield strength | 450MPa mi | Elastic modulus | 200GPa |
Physical Properties
Elongation
25% min
Mean coefficient of thermal expansion
Brinell hardness
293 HB max
0-100oC
13.7µm/m/oC
Rockwell hardness
31 HR C max
 
0-315oC