Hastelloy Flanges
Hastelloy C22 Flanges | Hastelloy C276 Flanges | Hastelloy C22/C276 UNS N10276/N06022/N10665 Flanges
Hastelloy C22/C276 ASME SB160 Flanges | Hastelloy C22/C276 ASME SB366 Flanges | Hastelloy C22/C276 ASTM B472 Flanges
As a highly respected association in the business sector, we as Jainex Metal are entirely occupied with proposing a gathering of Hastelloy Flanges as an exporter, producer, supplier, and stockiest to our overall customers at sensibly evaluated costs.
As for various evaluations, we offer these Flanges in various sorts, for example, Hastelloy Slip On Flanges, Hastelloy Blind Flanges, Hastelloy Weld Neck Flanges, Hastelloy Socket Weld Flanges, Hastelloy Spectacle Blind Flanges, Hastelloy Screwed/Threaded Flanges, Hastelloy Reducing Flanges, and Hastelloy Ring Type Joint Flanges (RTJ).
We too offer these Hastelloy Alloy Flanges in tweaked thicknesses and sizes according to the exact prerequisites given by our significant clients in worldwide nature of guidelines. In the mean time, we are being considered as a renowned supplier and manufacturer of a substantial compilation of such flanges & fittings.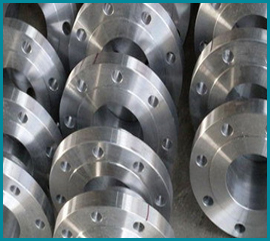 Specification of Flanges
| | |
| --- | --- |
| Grades | Hastelloy C22 (UNS No. N06022), Hastelloy C276 (UNS N10276) |
| Werkstoff Nr | 2.4602, 2.4819 |
| Standard | ASTM, ASME Flanges, ANSI Flanges, DIN Flanges, EN Flanges, BS Flanges etc. |
| Dimensions Std. | ANSI B16.5, ANSI B16.47 Series A & B, MSS SP44, ASA, API-605, AWWA, Custom Drawings |
| Specifications | ASTM B564 / ASME SB564 |
| Size | ½" NB – 48" NB |
| Class | 150#, 300#, 600#, 900#, 1500#, 2500#, etc. |
| Pressure | DIN PN6, PN10, PN16, PN25, PN40, PN64, PN100, PN160 , etc |
Types of Flanges
| | | |
| --- | --- | --- |
| Hastelloy Blind Flanges | Hastelloy Reducing Flanges | Hastelloy Ring Type Flanges |
| Hastelloy Spectacle Flanges | Hastelloy Weld Neck Flanges | Hastelloy High Hub Flanges |
| Hastelloy Threaded Flanges | Hastelloy Lap Joint Flanges | Hastelloy Long weld Neck Flanges |
| Hastelloy Slip-On Flanges | Hastelloy Socket Weld Flanges | Hastelloy Orifice Flanges |
Chemical Composition of Hastelloy C22
| Element | Min | Max |
| --- | --- | --- |
| Molybdenum | 15.0 | 17.0 |
| Chromium | 14.5 | 16.5 |
| Iron | 4.0 | 7.0 |
| Tungsten | 3.0 | 4.5 |
| Cobalt | -- | 2.50 |
| Carbon | -- | 0.1 |
| Silicon | -- | 0.08max |
| Manganese | -- | 1.0 |
| Vanadium | -- | 0.35 |
| Phosphorus | -- | 0.04max |
| Sulfur | -- | 0.03max |
Chemical Composition of Hastelloy C276
| Element | Min | Max |
| --- | --- | --- |
| Molybdenum | 15.0 | 17.0 |
| Chromium | 14.5 | 16.5 |
| Iron | 4.0 | 7.0 |
| Tungsten | 3.0 | 4.5 |
| Cobalt | -- | 2.50 |
| Manganese | -- | 2.5 |
| Carbon | -- | 1.0 |
| Vanadium | -- | .01 |
| Phosphorus | -- | 35 max |
| Sulfur | -- | .04 max |
| Silicon | -- | .03 max |
| Sulfur | -- | .08 max |
Mechanical Properties
| Grade | Tensile (ksi) | .2% Yield (ksi) | Elongation % | Hardness (HRb) |
| --- | --- | --- | --- | --- |
| C22 | 115 | 55 | 60 | 89 |
| C276 | 110 | 52.6 | 62 | - |