Stainless Steel 321/321H Flanges
Stainless Steel 321 Flanges | Stainless Steel 321H Flanges Manufacturer | Stainless Steel ASTM A182 321/321H Flanges
SS 321/321H UNS S32100/S32109 Flanges | DIN 1.4541/1.4878 SS Flanges Manufacturer In Mumbai
As an acclaimed undertaking of the business, Jainex Metal is included in offering an unfathomable cluster of Stainless Steel 321/321H Flanges as a maker, exporter, stockiest and supplier to our household and worldwide customers. Alloy 321 (UNS S32100) is titanium settled austenitic Stainless Steel Flanges with great general corrosion resistance. Alloy 321H (UNS S32109) Stainless Steel Flanges is the higher carbon (0.04 - 0.10) adaptation of the combination.
Regarding diverse evaluations, we offer these Flanges in various sorts, for example, SS Slip On Flanges, SS Blind Flanges, SS Weld Neck Flanges, SS Socket Weld Flanges, SS Spectacle Blind Flanges, SS Screwed/Threaded Flanges, SS Reducing Flanges, and SS Ring Type Joint Flanges (RTJ). In the interim, our costs of such spines are set remembering customers prerequisite.
As for national and global nature of crude materials, we likewise offer these SS 321/321H Flanges in tweaked sizes and thicknesses according to particular requests by our regarded customers at business sector driving costs.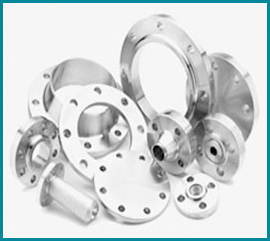 Specification of Flanges
Grade
SS 321(UNS S32100)
SS 321H(UNS S32109)
Werkstoff Nr
321 / 1.4541
321H / 1.4878
Dimension Std
ANSI B16.5, ANSI B16.47 Series A & B, MSS SP44, ASA, API-605, AWWA, Custom Drawings
Standard
ANSI Flanges, ASME Flanges, BS Flanges, DIN Flanges, EN Flanges etc.
Specification
ASTM A182 / A240 & ASME SA182 / SA240
Size
½" NB – 48" NB
Class
150#, 300#, 600#, 900#, 1500#, 2500#, etc
Pressure
DIN PN6, PN10, PN16, PN25, PN40, PN64, PN100, PN160, etc
Types of Flanges
| | | |
| --- | --- | --- |
| Stainless Steel Blind Flanges | Stainless Steel Reducing Flanges | Stainless Steel Ring Type Flanges |
| Stainless Steel Spectacle Flanges | Stainless Steel Weld Neck Flanges | Stainless Steel High Hub Flanges |
| Stainless Steel Threaded Flanges | Stainless Steel Lap Joint Flanges | Stainless Steel Long weld Neck Flanges |
| Stainless Steel Slip-On Flanges | Stainless Steel Socket Weld Flanges | Stainless Steel Orifice Flanges |
Chemical Composition
%
Cr
Ni
C
Si
Mn
P
S
N
Ti
Fe
321
min:17.0
max:19.0
min: 9.0
max:12.0
max:0.08
max:0.75
max:2.0
max:0.045
max:0.03
max:0.10
min:5*(C+N)
max:0.70
Balance
321H
min:17.0
max:19.0
min: 9.0
max:12.0
min:0.04
max:0.10
max:0.75
max:2.0
max:0.045
max:0.03
max:0.10
min:5*(C+N)
max:0.70
Balance
Mechanical Properties
Grade
Tensile Strength
ksi (min.)
Yield Strength 0.2%
Offset ksi (min.)
Elongation -
% in
50 mm (min.)
Hardness
(Brinell) MAX
321/321H
75
30
40
217
Physical Properties
Denstiy
lbm/in3
Coefficient of
Thermal Expansion (min/in)-°F
Thermal Conductivity BTU/hr-ft-°F
Specific Heat BTU/lbm -°F
Modules of Elasticity (annealed)2-psi
at 68 °F
at 68 – 212°F
at 68 – 1832°F
at 200°F
at 32 – 212°F
in tension (E)
0.286
9.2
20.5
9.3
0.12
28 x 106